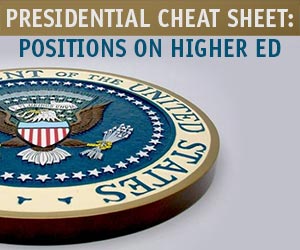 As the 2020 presidential election ramps up, NASFAA continues to closely monitor the candidates as higher education policy positions emerge.

This page serves as a compilation of the current Democratic and Republican presidential candidates' stated positions on higher education and student aid issues. While NASFAA regularly takes positions on higher education policies, the association does not support or endorse any candidate for elected office.
Democrats
Joe Biden, former Vice President
Biden has been supportive in the past of free community college, as part of President Obama's America's College Promise proposal. In 2015, Biden supported four years of "free college" (Inside Higher Ed), however he now proposes to make community college free (Education Next). Additionally, he would like to make sure that PSLF is "fixed, simplified, and actually helps teachers." (Joebiden.com) In an exchange with a student during a campaign event in August, Biden said borrowers should not have to make payments toward their loans until they are earning at least $30,000, and loans should not accumulate interest before borrowers begin earning that amount. He also said he would reduce the percentage of income that borrowers repay in income-driven repayment plans from 10% to 5%. (Forbes). Biden in October released his official plan for higher education, which included doubling the maximum Pell Grant award, automatically enrolling borrowers into income-driven repayment plans, and restructuring PSLF to allow for borrowers to receive $10,000 in debt relief "for every year of national or community service, up to five years" (https://joebiden.com/beyondhs/). In April, in the thick of the novel coronavirus outbreak and shortly after Sen. Bernie Sanders and all other Democratic candidates had dropped out of the race, Biden released an updated proposal on student debt relief, which included plans to forgive all undergraduate tuition-related federal student debt from two- and four-year public schools for debt holders earning up to $125,000, with a phase-out for those earning more than $125,000, and canceling a minimum of $10,000 in debt for student loan borrowers dealing with the COVID-19 outbreak (NASFAA Today's News article).
Republicans
President Donald Trump
President Trump has proposed deep cuts to the Department of Education as a whole, and specifically to student financial aid programs. His fiscal year 2018 budget proposal for example, would have cut about $150 billion from federal student aid programs over 10 years. His most recent budget proposal reiterated his support for hard-hitting cuts to the federal student aid programs, and included a $2 billion rescission from the Pell Grant reserve funds. He has also proposed eliminating subsidized loans, Public Service Loan Forgiveness, reducing Federal Work-Study funding, and increasing risk-sharing with institutions. He has supported a more streamlined loan repayment process and shift in the Federal Work-Study allocation formula so institutions would receive funds based on the number of Pell Grant recipients the institution enrolled (The Chronicle of Higher Education). Trump has proposed that student loan forgiveness be made available to all borrowers with undergraduate and graduate student loans who participate in a single income-driven repayment plan. Borrowers would pay 12.5% of their discretionary income and would receive student loan forgiveness after 15 years for their federal undergraduate student loans and after 25 years for federal graduate loans (Forbes). Trump in August signed an executive order forgiving all student loan debt for any permanently disabled U.S. military veterans. (Fox News)
Recent Election Coverage from NASFAA
How Biden's Vice Presidential Pick and Move to the Left Could Shape Higher Education


April 20, 2020

-

As the presidential campaign shifts toward the general election with former Vice President Joe Biden becoming Democrats' presumptive nominee, the grueling nomination fight now transitions to another intensive process: consideration of a vice pr...

2020 Presidential Candidates Archive


April 21, 2020

-

The following candidates have dropped out of the 2020 Presidential Race. Below you will find a list of each candidate with links to resources outlining their stances on various higher education and student aid issues. The candidates are listed in alp...