The Allan W. Purdy Distinguished Service Award is one of the highest awards that NASFAA bestows and may be awarded either for significant contributions in the furtherance of NASFAA's goals over a sustained period of time OR for a single contribution of such momentous importance as to deserve the award.
An award recipient may come from the financial aid, political, educational, business, or other community. In addition to any selection(s) made from nominations for the Allan W. Purdy Distinguished Service Award, the association normally recognizes the significant and sustained contributions of the NASFAA National Chair with this award at the end of the Chair's term.
The NASFAA Awards Nomination process is now open for member nominations until February 14, 2020. Winners will be announced this summer at the NASFAA National Conference.
2019 Allan W. Purdy Distinguished Service Award Winner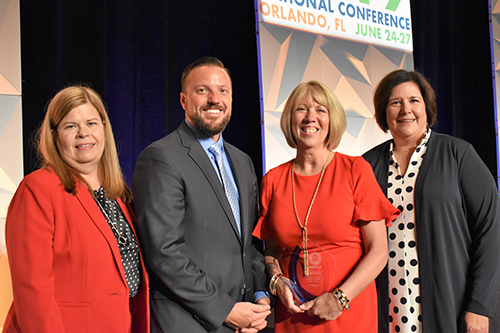 Lori Vedder, director of financial aid at the University of Michigan – Flint and NASFAA's 2018-19 national chair.
Lori Vedder serves as the Director of Financial Aid at the University of Michigan-Flint,
having served students and our profession for over 28 years. Over this span she has
actively engaged in association work at the state, regional and national levels. Having
chaired multiple committees, presented and moderated at many conferences, she is
also a former President of the Michigan Association and MASFAA. Lori has also served NASFAA in many key roles including Treasurer, Association Governance member, and a member of the Ethical Principles & Code of Conduct Task Force.
Lori has been honored for her work with several awards throughout her service
in financial aid including the University of Michigan-Flint Staff Recognition Award,
the MSFAA Henry Dykema Distinguished Service Award, MASFAA Leadership and
Meritorious Service Awards, and the NASFAA Regional Leadership Award.
Lori is a kind friend, a passionate mentor and leader, and a steadfast advocate for students.