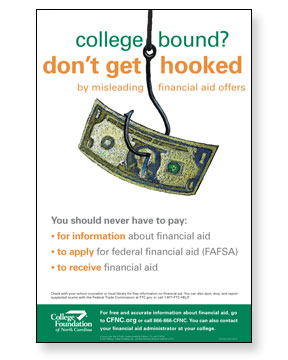 MYTH #1: You need to pay someone to help you complete your financial aid applications.
FACT #1: Financial aid consultants are not the same as financial aid administrators. Financial aid consultants usually charge a fee for a variety of services. Before you decide to hire one, read our tip sheet to find out why this isn't necessary and how to protect yourself.
MYTH #2: The only way to find scholarships is to pay for a scholarship search service.
FACT #2: A legitimate financial aid offer doesn't cost money! Some scholarship search services misrepresent their services, guaranteeing that they can obtain scholarships on behalf of students. Other fraudulent companies tell students they've been selected as "finalists" for awards that they can receive only after paying a fee. For more information, contact the Federal Trade Commission and read about how to find scholarships on your own.
MYTH #3: You have to take the full amount of a student loan offered to you.
FACT #3: You should only borrow the minimum amount you need because you do have to repay it. Check out ways to cut costs and be especially careful about borrowing during your first year, because if you decide to discontinue school you will still owe the debt. Be conscious of the total amount you will borrow by the time you graduate, and the total cost of your loan and the monthly payments required. Be mindful that the longer it takes you to pay off a loan, the more interest accrues. It is best to keep your monthly payments to not more than 8% of your estimated gross income after graduation.
MYTH #4: Private student loans are a better option than federal student loans.
FACT #4: Federal loans offer borrowers lower interest rates and have more flexible repayment options than loans from banks or other private sources. Learn the difference between federal and private education loans, which are more expensive and do not have the many consumer protections that federal student loans offer. Always take federal loans first! Not sure which is which? Ask your financial aid administrator.
If you do decide to take out a private student loan, do some comparison shopping first by looking up the rates and terms of several different loans. And, check out the Federal Trade Commission notice about deceptive student loan offers.
MYTH #5: There's nowhere I can do a side-by-side comparison to help me decide which school may be right for me.
FACT #5: College Navigator, a free consumer information tool from the U.S. Dept. of Education, can help. It has information about nearly 7,000 postsecondary institutions in the United States and you can find out about accreditation, programs offered, retention and graduation rates, prices, aid available, degrees awarded, campus safety, and more.