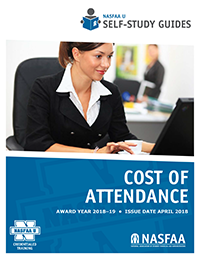 Published in April 2019 for the 2019-20 program year.
In this informative self-study guide, you will learn the principles and purposes of the student budget construction process, gain an understanding of how to build student budgets (including sources for setting the value of cost components), learn about the various allowable budget components and restrictions for certain categories of students, and become familiar with budget recalculations and the impact of non-Title IV aid on the cost of attendance. Completion of this guide qualifies an individual to take the credential test on cost of attendance.
Available as a PDF only.
Learning Objectives
Lesson 1: Student Budget Construction
Understand the principles and processes of student budget construction.
Lesson 2: Cost of Attendance Components and Restrictions
Concepts of cost of attendance (COA);
Allowable costs for awarding federal student financial aid; and
Restrictions on COA components.
Lesson 3: Recalculations and Non-Title IV Aid
Understand the cost of attendance recalculation requirements and options.
Be able to detail how non-Title IV aid impacts the cost of attendance.