Published in September 2015 for the 2015-16 program year.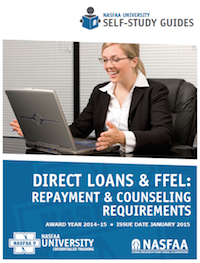 This guide introduces the various features of Federal Direct Student Loan (Direct Loan) and Federal Family Education Loan (FFEL) repayment, including repayment plans, deferment options, forbearance, and cancellation. The guide also reviews loan forgiveness options, Direct Loan entrance counseling requirements, and exit counseling requirements for both Direct Loan and FFEL borrowers. Individuals who complete this self-study guide must also complete the other Direct Loans self-study guide, Direct Loans & FFEL: Eligibility & Frequency, before taking the credential test for Direct Loans.
Available as a PDF only.
Learning Objectives
Lesson 1: Direct Loan & FFEL Repayment Features
Identify and understand the major repayment features of Direct and FFEL loans.
Lesson 2: Direct Loan & FFEL Repayment Plans
Know which repayment plans are available to borrowers under the Direct Loan and FFEL programs;
Understand borrower choice and restrictions among available repayment plans;
Understand the monthly payment amounts, repayment term lengths, and special conditions associated with each of the repayment plans; and
Know that repayment plan counseling tools and calculators are available to borrowers and where to find them.
Lesson 3: Loan Counseling
Understand when loan counseling is required;
Identify who must complete entrance and exit counseling;
Identify the various counseling formats and documentation requirements; and
Understand the required content of loan counseling and its purpose.