NASFAA Welcomes Jeannette Walls as Sunday's Opening Session Speaker at the 2016 National Conference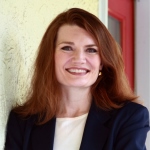 NASFAA is thrilled to have best-selling author Jeannette Walls as the opening session speaker on July 10 at the 2016 National Conference in Washington, D.C.
Walls is best known for her memoir, "The Glass Castle," which describes growing up in the desert of the American Southwest and then in a West Virginia mining town with her three siblings and her brilliant, unorthodox, irresponsible parents. It has been a New York Times best-seller for more than six years, has sold 4.5 million copies in the United States alone, been translated into 22 languages, and is being made into a movie by Paramount. It was named one of the "Top 10 Books of the Decade" by Amazon, and has won numerous awards including the Christopher Award, the American Library Association's Alex Award, and the Books for Better Living Award.
Her follow-up to "The Glass Castle," "Half Broke Horses: A True Life Novel," was released in October 2009, and was an immediate New York Times best-seller. Her latest book, "The Silver Star," was released in June 2013.
During her speeches at colleges, corporations, and business associations, Walls discusses overcoming hardship and the keys to turning adversity to your advantage. Walls lives in the Virginia piedmont with her husband, the writer John Taylor. She has appeared on Prime Time Live, Good Morning America, Larry King Live, Oprah, and the Diane Rheem Show.