This award is presented to an individual who has made an important contribution to the Association or to the profession. To receive a Meritorious Achievement Award the individual should have made either:
An important single contribution to the Association or the profession; or
Significant multiple contributions to the Association or the profession.
As an example, Ruth Burns was honored for her developmental work on the original NASFAA Encyclopedia of Student Financial Aid.
The 2016 award cycle is open through February 5, 2016 and winners will be announced at the 2016 NASFAA National Conference in Washington, DC. NASFAA members can submit their Meritorious Achievement Award Nomination through this form.
There was one recipient of the Meritorious Achievement Award in 2015.
Connie McCormick, NASFAA's former Chief Training Officer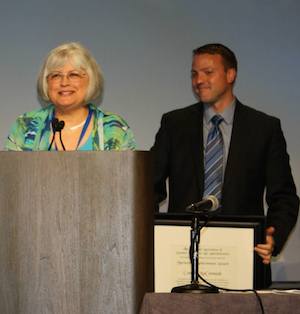 Connie joined the NASFAA staff in 1995 in the role of Director of Policy Analysis and became Director of the Training Department in 1998. Throughout her tenure, Connie established processes to ensure the highest quality in NASFAA training materials and products.
Her guiding hand in the rollout of NASFAA University ensured the success of this flagship training initiative, which includes facilitated online classes, self-study guides, and credentials earned through testing.
While Connie has never wished for the spotlight, her leadership has touched every single training product or service NASFAA has produced. In that regard, it's hard to imagine others who have had as much influence on training the financial aid community.
View the past winners list, available in PDF format.