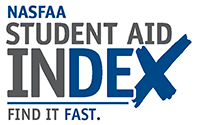 NASFAA's Student Aid Index is a central hub of all the important financial aid resources you need with direct links to legislation, regulation, Dear Colleague Letters, and other ED and NASFAA references. This simple-to-use online tool is also mobile-friendly. For more information on the benefits of the Student Aid Index, please visit nasfaa.org/index.
Important Notice: Coronavirus (COVID-19) Web Center
NASFAA has created the Coronavirus (COVID-19) Web Center to keep NASFAA members and the financial aid community updated on pertinent news related to the coronavirus (COVID-19). It is updated daily.
Recently Updated Topics
Top 5 Most Popular Topics
We welcome feedback on additional content, subjects, or bugs using the Student Aid Index Feedback Form.
Updated: 4/17/2020