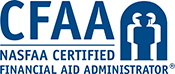 To become a Certified Financial Aid Administrator™ (CFAA), you must demonstrate your knowledge of Title IV financial aid by passing the CFAA Exam. You may purchase the CFAA Exam upon approval of your CFAA application.
The CFAA Exam will be:
Available online within NASFAA's Testing Center.
Proctored remotely, requiring candidates to meet basic technical requirements.
Approximately 115 multiple choice questions.
Two hours in length, not including the time it takes to connect to the virtual proctor.
Available during established testing windows for the 2019-20 year:
To prepare for the CFAA Exam, review the CFAA Exam Content Outline and CFAA Core Resources list in the CFAA Candidate Handbook. Be sure to review the How-To Guide in the Appendix.

You will find out whether you passed immediately after submitting your completed exam. Your test score and the passing score will not be visible. Instead, you will be able to view a diagnostic report showing your performance in each content area.
If you are not successful, you may purchase one additional attempt that must be completed within one year from the date of approval. To prepare to retake the CFAA Exam, consider additional professional development opportunities and review the list of core resources identified in the CFAA Candidate Handbook.
Successful CFAA candidates will receive special recognition and benefits. For example, each time you certify or recertify, you will receive a complimentary certificate and lapel pin in the mail, and you will have the opportunity to purchase a frame for your certificate. To acknowledge your accomplishment, your name will be added to the CFAA Registry, unless you opt out by notifying CFAA Program staff at cfaa@nasfaa.org.
For More Information