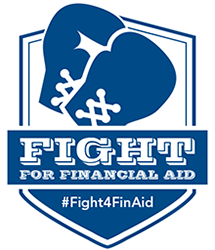 NASFAA relies on advocates to amplify our "Fight for Financial Aid" campaign. This page includes a variety of tools and resources for advocates interested in joining the fight.
Have ideas or suggestions? Let us know - email us policy@nasfaa.org.
Background & Tools
Event Resources
Social Media Resources
Importance of Financial Aid Infographics
Compiled as part of Financial Aid Awareness Month, these infographics tell an important story about the current state of the federal student aid programs and why increased investements in student aid can make a difference.
External Resources