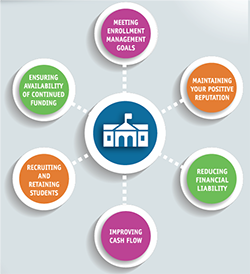 Complying with the provisions governing federal student financial aid programs is an institution-wide responsibility. Financial aid rules intersect with numerous initiatives on campus, such as your institution's enrollment management objectives, reputation and status, and financial security. But the consequences of not adhering to the established laws, regulations, and published guidance can have far-reaching effects on both your school and students. Here are a few ways financial aid compliance affects your school:
Meeting Enrollment Management Goals
As more schools engage in enrollment management, financial aid policies and procedures play a key role in meeting those goals. But institutions also must adhere to numerous federal regulations to remain eligible to participate in the federal financial aid programs. Schools may want to implement practices to achieve enrollment management goals that do not comply with financial aid rules. While the regulations allow flexibility in some of areas, others are more rigid. Ensuring that your school's practices align with its mission and goals, while staying in compliance with established rules and published guidance, will help you meet your enrollment management objectives.
Maintaining Your Positive Reputation
Public focus on higher education is on the rise, which means there is more at stake when something negative happens at your school. When the federal government conducts a program review, it must publicly disclose the outcomes of that evaluation, including any areas where the school did not comply with established rules, and the corresponding financial liabilities and fines. In some cases, the government will publish a press release if the findings are egregious enough to warrant further publicity. These reports also may come up in online searches about your school by students, parents, faculty, employees, or the general public. Remaining in compliance with laws and regulations will keep you out of the negative spotlight and help you maintain your school's positive reputation.
Reducing Financial Liability
Not complying with the rules and regulations governing federal financial aid programs can be an expensive mistake. When the Department of Education (ED) performs a program review, it can assess financial fines and liabilities. Fines typically occur due to egregious violations of established policy, such as not disclosing information about campus safety and security required by the Clery Act. The maximum fine per violation is $54,7891, so the costs can add up quickly. A school is subject to liabilities when it must repay funds to ED due to a mishandling of funds, such as paying aid for an ineligible program. There is no limit to the amount of liabilities ED may assess based on the school's errors. The best way to prevent these fines and liabilities is to ensure your school complies with established provisions.
Improving Cash Flow
Federal regulations allow for some flexibility in the method and timing of disbursing financial aid to students. This flexibility means schools may have more control over when these funds come into the institution to pay a student's charges. Scheduling federal financial aid disbursements at the right times throughout the year can help a school maintain its strong fiscal standing. Strategically using the disbursement flexibilities allowed, while remaining in compliance with the rules, can sustain and protect your school's cash flow.
Recruiting and Retaining Students
Access to financial aid funds can be a defining factor in a student's decision to pursue higher education at your institution. Certain school policies, however, may present barriers to matriculation and retention. In some cases, these policies are the result of long-standing processes that may be outdated or unnecessary; others however, are required by federal law. Identifying potential obstacles may certainly assist with recruiting and retaining students, but schools also must remain in compliance with established rules and regulations. Distinguishing the required policies and procedures from the optional ones will ensure your school provides numerous avenues for students to attend, and remain, at your institution.
Ensuring Availability of Continued Funding
When schools fail to comply with the laws and regulations governing federal financial aid programs, they may be at risk of losing eligibility to participate. ED may limit or suspend a school's participation prior to termination, but it also has the authority to immediately terminate participation under emergency action provisions.2 More than 90 percent of postsecondary schools in the U.S. participate in federal financial aid programs3, and the limitation, suspension, or termination of an institution's eligibility could be devastating to the school, students, and even the local community. By ensuring your school fully complies with all federal financial aid provisions, you also ensure your continued eligibility to participate in these programs.
Does Financial Aid Compliance Affect Your School?
Absolutely. It may be time for a comprehensive, confidential, outside evaluation to make sure critical compliance issues are not missed that could put your school at risk. For more information about NASFAA's peer review services, visit nasfaa.org/SOE.
1 For violations occurring after Nov. 2, 2015, with fines assessed after April 20, 2017.
2 34 CFR 668, Subpart G.
3 IPEDS data submitted to NCES.