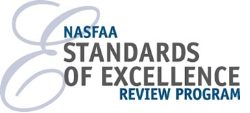 NASFAA's Peer Review Services are unique in comparison with other consulting companies in the following ways:
NASFAA is a non-profit organization with a commitment to the professional development and training of financial aid administrators.
NASFAA's peer review specializes in federal financial aid administration and the peer reviewers are current financial aid administrators.
The cost of a NASFAA peer review is significantly lower than the fines imposed by the Department of Education during Program Reviews.

As a non-profit organization, NASFAA prices its services to cover expenses without building in a large profit margin, as you might see with traditional consulting companies. Also, we do not offer consulting services after the review, so there is no pressure for additional services once the review has been completed. A corrective action plan is provided after the review so the financial aid staff can make corrections on their own without the need of additional consultants or additional funds.
The peer review fee covers the cost of administering the program, which includes:
Paying for the expertise of our highly-qualified team leaders and peer reviewers. All of our reviewers have at least eight years of financial aid experience, and most of them significantly more. You can review their qualifications and biographies
Developing all the materials used to conduct the desk review, staff and student surveys, and interviews.
Analyzing the information gathered to write your final report.
NASFAA understands that the fee for a full SOE review can be a significant sum for schools, but we would like to point out that the fee for a full review is 7.5 times lower than the fines the Department imposes as a result of a Program Review. The Department has the authority to fine a school up to $35,000 for each violation ED unearths during a program review, and fines can add up quickly. NASFAA conducted an analysis of the average amount of program review fines per school, and the amount was over $193,000 in FY14 and nearly $189,000 in FY15. Nearly half of the schools that received a program review during those two years received a fine from ED.
Between fiscal year 2010 and 2015, ED imposed fines averaging over $91,000 for Clery Act violations alone. The fee for NASFAA's Consumer Information Assessment is less than 5 percent of that average fine.
In comparison, paying a one-time fee for a friendly program review from NASFAA can provide you piece of mind that your school's operations can withstand the rigors of a federal program review, and more importantly, ensures your school is able to continue administering financial aid to benefit your students.
Want more information about the SOE Review Program?
Complete the information request form or contact NASFAA's SOE Administrator by email at excellence@nasfaa.org or by phone at (202) 785-6953.