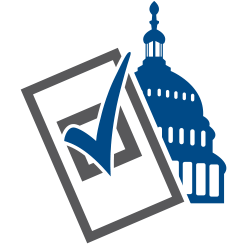 On this page, you'll find proposals that modify the existing campus-based aid programs, which include the Federal Supplemental Educational Opportunity Grant (FSEOG), Federal Work Study (FWS), and the Federal Perkins Loan program.
For campus-based aid proposals from the previous session of Congress, visit the Legislative Tracker Archive: Campus-Based Programs.
*NEW*

Students Helping Young Students Act
HR 6036
Sponsor:
Rep. Carson (D-IN)
Co-Sponsors:
0 (0 R; 0 D)
Introduced:
6/7/2018
NASFAA Analysis & Coverage: This bill

would add a work-study program for off-campus community service at selected after-school locations. The federal share for work-study awards under this program would be allowed to exceed 75 percent.

Opportunities for Success Act
HR 5312
Sponsor:
Rep. Bonamici (D-OR)
Co-Sponsors:
1 (0 R; 1 D)
Introduced:
3/15/2018

NASFAA Analysis & Coverage: This bill would make a number of changes to the Federal Work-Study (FWS) program. The bill would increase funding authorization levels and would revise the program's allocation formula by phasing out the "base guarantee" component in the current formula over five years. The bill would also set aside funds for "improved institutions" based on success of Pell Grant recipients. The bill would eliminate the community service requirement and emphasize Job Location and Development (JLD) programs.

PROSPER Act
HR 4508
Sponsor:
Rep. Foxx (R-NC)
Co-Sponsors:
1 (1 R; 0 D)
Introduced:
12/1/2017

NASFAA Analysis & Coverage: The Promoting Real Opportunity, Success, and Prosperity through Education Reform (PROSPER) Act is a comprehensive Higher Education Act (HEA) reauthorization bill with notable changes to the federal student aid programs.

Status:

12/13/2017: Passed House of Representatives Committee on Education and the Workforce

Federal Perkins Loan Program Extension Act
HR 2482
Sponsor:
Rep. Stefanik (R-NY)
Co-Sponsors:
237 (46 R; 191 D)
Introduced:
5/17/2017
S. 1808
Sponsor:
Sen. Baldwin (D-WI)
Co-Sponsors:
19 (4 R; 15 D)
Introduced:
9/14/2017
NASFAA Analysis & Coverage: This bill would extend the Federal Perkins Loan Program for two additional years, thereby moving its authorization expiration from September 30, 2017, to September 30, 2019. Supported by NASFAA, the bill is a simple two-year extension of the previous extension of the program in 2015, meaning graduate and professional students will regain eligibility for a year before becoming ineligible again the following year.
College for All Act
S. 806
Sponsor:
Sen. Sanders (I-VT)
Co-Sponsors:
7 (0 R; 7 D)
Introduced:
4/3/2017
HR 1880
Sponsor:
Rep. Pramila (D-WA)
Co-Sponsors:
35 (0 R; 35 D)
Introduced:
4/4/2017
NASFAA Analysis & Coverage: This comprehensive piece of legislation would create a grant program to states to eliminate tuition at public 4-year colleges and universities and tribal colleges for students from any family making $125,000 or less. The bill would cut interest rates and impose an interest rate cap of 5% for undergraduate borrowers and 8.25% for graduate and parent borrowers, while also allowing borrowers to refinance loans at the current interest rates. Any excess revenue in the Direct Loan Program would be redirected into the Pell Grant Program. The bill would also increase Federal Work Study (FWS) authorized funding levels and revise the FWS allocation formula by eliminating the "base guarantee" component in the current formula. In addition, TRIO and GEAR UP would see increases to authorized funding levels.