Access NASFAA Live, June 29-July 2, 2020, from the convenience of your computer or mobile device.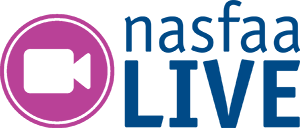 Unable to attend in person? By registering for "NASFAA Live"—NASFAA's interactive, livestreaming conference option—you can actively participate in NASFAA 2020 from the comfort of your own desk or office conference room.
Benefits of NASFAA Live Registration
Spread the knowledge. A single NASFAA Live registration can be viewed by unlimited participants, which means for the cost of just one conference registration, everyone at your school can participate.
With NASFAA Live, there's no need for hotels, flights, or returning to a backlog of work and emails post-conference.
Ideas to Make the Most of NASFAA Live
Watch in the privacy of your own office
Invite your office colleagues to watch together in a conference room
Assign individual staff members to watch specific interest sessions with you
Convene after the conference has ended to watch on-demand recordings of any NASFAA Live sessions you or your staff missed when it was being live streamed
Download handouts from sessions of interest
Details
While we encourage you to share the NASFAA Live experience on your campus, there are two requirements:
Whoever buys the NASFAA Live registration, must use their own individual NASFAA account to access the livestream and supporting materials. It is against NASFAA's Terms of Service to share or distribute your NASFAA account credentials.
Only one login is given per registration, so only one streaming session may be used at a time. Users cannot watch NASFAA Live from two devices simultaneously, but can easily move from one device to another by logging in again. Previous sessions will be disabled.
More details about NASFAA Live will be posted in the spring.