It All Comes Back Full Circle

 This past week, I was able to delve into a variety of projects and activities that, although different in nature, required many of the same skills.
This past Thursday, NASFAA President Justin Draeger hosted a review of the book "The Five Dysfunctions of a Team" with the NASFAA policy and communications staff and newer NASFAA members. Written in parable form, this book explores the five most common traits, or "dysfunctions," of a bad team and provides numerous tactics and strategies that can be executed in order to overcome them. What is so great about this book is that prior to reading it, I had already conceptualized the traits and skills that I thought should be mastered by all team members in order maintain a healthy and successful team. Instead of focusing on the most conspicuous deficiencies, the author highlighted the most complex and sometimes contentious. This book is definitely a great read for any office because it provides the opportunity to reflect on skills that are applicable to almost any office setting in order to enhance the effectiveness of a team and office environment.
So far this week, I have assisted Senior Policy Analyst Karen McCarthy and Research Analyst Charlotte Pollack with their projects. I provided some feedback on the Campus-based Task Force report-- which will be released to NASFAA's membership next week-- and helped flesh out the Loan Servicing Task Force survey. I absolutely enjoy working on projects that provide exposure to the many initiatives that NASFAA has undertaken as an association. As I see it, working on a multitude of topics will only make me a more well-informed consumer and advocate in the future. Not only is that important, but it's incredible to see just how in tune NASFAA staff are with one other on a daily basis—such successful collaboration echoes back to the skills highlighted in "The Five Dysfunctions of a Team" which makes absolute sense because a majority of the staff have already read, and clearly have utilized, the model outlined within the book.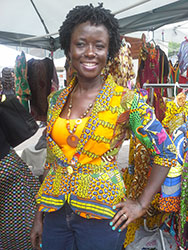 I even had the chance to throw a bit of fun in the mix this past weekend. I attended the 12th Annual African Festival, "FestAfrica" in Silver Spring, MD where some of the best African cuisine, performers, fashion, and art within the area was showcased. It was a great opportunity to learn more about other regions within the continent of Africa, being that much of my exposure to foods, people, and clothing are limited to West Africa.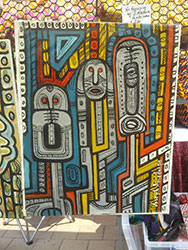 Not only was that the case, but I felt a great sense of nostalgia in speaking with some Ghanaian vendors about my experiences while working for a non-profit organization in Ghana about two years ago. During this conversation, I thought back to the book that we read this past week atNASFAA and how this position was the first in which I had to exercise my team-building skills. In looking back, I can see that I as a person, advocate, and team member, I have grown immensely within this short period of time. I hope to look back just a few years from now and be able to feel the exact same way.
View previous blog posts from Behind the Scenes with Blondeen >>
 
Publication Date: 8/15/2014
---