How Do I Advise My DACA Students Now?, 9:45 - 10:45 am
By Erin Powers, Communications Staff
When it was originally proposed in 2001, the Development, Relief, and Education of Alien Minors—or DREAM—Act was intended to grant lawful immigration status to individuals who entered this country as children and went on to pursue a higher education or served in the military. Though the DREAM Act was never passed in Congress, in 2012 the Obama administration put into place an executive action called Deferred Action for Childhood Arrivals (DACA) which was developed to help that same population.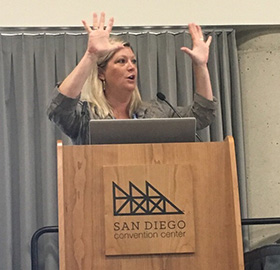 In this Tuesday morning session, Angela Adams, managing attorney and owner of Adams Immigration Law, LLC, gave attendees an update on where the DACA program stands today. During the campaign for presidency, Donald Trump promised to "immediately terminate" the DACA program, but he's been in office for nearly 160 days and—at least for now—DACA is still in place and renewal applications are being approved.
It is imperative to seek assistance from a qualified immigration attorney, especially if the student in question has a prior order of removal or is seeking travel authorization, Adams stressed in the session, explaining that while in the United States notary publics are simply officials who are able to check your identify and sign off on official documents that certify you are who you say you are, in some Spanish-speaking countries "notarios" are able to offer this same service, but are also lawyers. This can lead to great confusion in the U.S. because there can be a misperception among native Spanish-speakers that notary publics that advertise themselves as notarios can offer legal advice when they are actually not equipped to do so.
Quick Takeaways from the session:
Although DACA continues to exist for now, the future of DACA remains uncertain.

In order for DACA recipients to have any type of long-term relief or permanent immigration status, congressional action needs to taken.

For the time being, universities and other community partners must continue to explore creative ways to assist DACA students in finding resources to afford a college education.

In at least 20 states, undocumented and DACA students are eligible to pay in-state tuition rates at public colleges and universities. Sixteen of those states have enacted state legislation in which eligibility for in-state tuition is based on graduation from a state high school and long term residence in the state.

As of April 2017: 770,477 people have been approved for DACA in the U.S.

Some states specifically restrict undocumented students from eligibility for in-state tuition.

Even at in-state tuition rates, paying for college is often a challenge, especially because DACA and undocumented students are not eligible for state or federal financial aid. Undocumented and DACA students must explore alternative sources of private funding, such as private scholarships offered by non-profit organizations, individuals, government agencies or foundations, school scholarships, private loans, working for a college in order to receive fee remission, payment plans, etc.
For more resources for DACA students, refer to Angela's recent Student Aid Perspectives article on this issue.
Publication Date: 6/27/2017
---