Never a Dull Moment

Have you ever worked at a place where you didn't need coffee to get you started in the morning? Well, now I do! I've been able to attend so many interesting policy related meetings and events within the NASFAA office and on Capitol Hill, making it extremely difficult to ever get bored.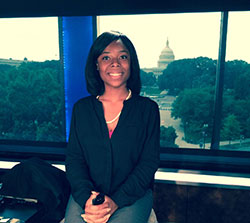 Sitting in the hot seat at the DC-based Fox Studios with a perfect view of the Capital Dome directly behind me. 
One of the highlights of the past week includes attending the "Lumina Ideas Summit: New Paths to Higher Education Diversity after Fisher v. University of Texas." This summit was focused on identifying strategies to ensure race and class-based diversity at postsecondary institutions in response to restrictions placed on colleges, universities, and states under Supreme Court case decisions like Fisher v. University of Texas and Schuette v. Coalition to Defend Affirmative Action. Several panelists highlighted the need for a more diverse campus not only because diversity enhances the quality of students' social interactions and perspectives, but also because some strategies offered could increase the academic competitiveness of colleges and universities. 
I also attended a June 24 event, "A Shared Agenda for Reform: Making Higher Education Tax Breaks Work for Students and Families" hosted by the Consortium for Higher Education Tax Reform. Panelists discussed recommendations that would improve the quality of tax-based aid to students. These recommendations include: 1) retargeting tax benefits to students that need it most, 2) providing families the opportunity to better understand how to claim such credits, and 3) restricting tax subsidies to institutions that meet college access and completion benchmarks.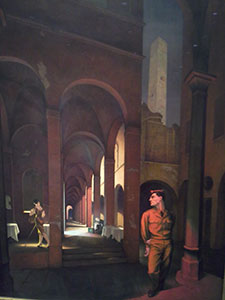 Night in Bologna, 1958. One of my favorite pieces at the National Portrait Gallery. This picture highlights three of the seven deadly sins. Can you guess which three they are?  
Keeping in line with this highly energized week, I wanted to ensure that my time off was just as exciting as my time in the office and on the Hill. I decided to do some sightseeing and was even able to meet up with some Rutgers students and alumni. 
I went with a friend of mine to the National Museum of Natural History where I immediately gravitated to the exhibitions on human origins, the human genome, and the continent of Africa, which allowed me to brush up on everything that I learned during undergrad. I also stopped by the National Portrait Gallery where I was able to explore American history through the eyes of many great artists. I finally topped my week off with a visit to Fox Studios on Capitol Hill. I was fortunate enough to meet with an intern at the Rutgers Office of Federal Relations who was able to schedule a tour for interns with Rutgers alumni and current Chief Congressional Correspondent for Fox News, Mike Emanuel. Mike was an excellent tour guide and even offered some words of encouragement on all of our future endeavors. Checkout my NASFAA Facebook album for photos of my recent adventures.
I can wholeheartedly say that I had a great week at NASFAA and next week should be even better because I will be in Nashville for the 2014 NASFAA Conference! I can't wait to share my experiences in Nashville with you all. I will be spending some time at the NASFAA booth in the Exhibit Hall, so please stop by and say hello in person!
Have any of you ever visited the Music City? Which attractions do you suggest that I go see? 
Blondeen
Publication Date: 6/27/2014
---