Lauren Danen, University of Wisconsin-Madison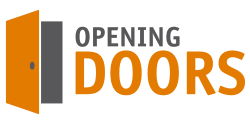 Opening Doors profiles students who are succeeding in college with the help of financial aid, and the financial aid professionals who work with them. Have a student and FAA to nominate? Let us know at news@nasfaa.org.  
By Katy Hopkins, Communications Staff 
Lauren Danen was always determined to find a way to make college work. But as a low-income, first-generation prospective college student, she was taken aback when she realized she'd have to borrow $10,000 a year to attend the University of Minnesota, her school of choice. 
"I honestly think I was very naïve," Danen said. "I didn't think about how much college would cost until I started getting my financial aid awards, and it was a little frightening." 
But before she had to think seriously about major debt, she received her financial aid award from the University of Wisconsin-Madison (UW) – and everything changed. 
"My mom opened the letter first, and she just brought it over to me and said, 'Lauren, look at this – all of your costs are covered,'" Danen recalled. "I was in disbelief; my financial aid package changed my whole perspective and made my decision."  
Danen was chosen for the university's Financial Aid Security Track (FASTrack) program, which covers costs for needy in-state students through a combination of grants, work-study assignments, and small loans, said Karla Weber, a financial aid counselor at UW.
UW doesn't market FASTrack or its counterpart program for out-of-state students, Badger Aid for Non-Residents (BANNER). But financial aid administrators consider every incoming freshman whose expected family contribution signals they may need extra help, Weber said. 
"The FASTrack program is geared toward helping our high-need students get a college education with as little debt as possible," Weber explained. "We look for students who are first generation or who have had experiences in their life that would deter them from getting an education."
For Danen, financial aid didn't only make college possible – it quickly became one of the defining aspects of her student career. Intrigued by her financial aid package, she drove two hours to campus before freshman year had begun to interview for a work-study position in the financial aid office. Her enthusiasm convinced Weber, and, for nearly four years, Danen has served as a front-line point of contact for the office, offering her guidance to prospective students in the position she once was in. 
"Don't think anything is out of reach, because it's likely not," Danen advises. "It's really great to be able to help people and say, 'No, those doors aren't closed.'"
Danen applied her own advice, and, with the help of financial aid administrators like Weber, found funds to study abroad for six months in Madrid, Spain – an experience she calls "one of the most formative" of her life. She also spent a semester in Washington, D.C. interning with the U.S. State Department while taking classes.
"All of these experiences I don't think would have happened had it not been for my financial aid," she said. 
Amid all her accomplishments, Danen did face some obstacles adapting to college as a first-generation student. 
"I've always just kind of plowed through and tried to figure things out on my own, but it can be hard when your parents don't know the route," she said. "I'll be talking about studying for tests, or the fact that I wanted to study abroad, and my mom just has no idea. It's really hard for her to imagine what I'm doing, or where I'm going to be in life. That's definitely a disadvantage compared to students whose parents have been there and can give advice."
Financial aid administrators at UW have helped to bridge the gap. Through the FASTRACK program, Danen has received counseling on managing debt and living expenses. And, Weber, her direct supervisor at work, has grown from a friendly face in the office into a true sounding board.
"Karla, on a personal level, has always been so encouraging," Danen. "The counselors here always said, 'Go for it; follow your dreams,' – having that type of encouragement from a mentor has just been invaluable." 
This is the second installment in the Opening Doors series. Please read about our first recipient, Taiwo Adefiyiju. 
Publication Date: 4/8/2014
---