NASFAA Members Share Holiday Traditions
The holidays are here and NASFAA members around the country are celebrating in style with decorations, parties, and charity drives. Take a look at how your colleagues celebrate the season and share your office's traditions below!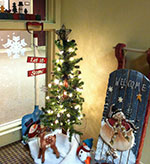 From Lezza Harman-Lineback, adult client services specialist in the Office of Financial Aid at the University of Indianapolis: "Each year our front desk associate decorates our lobby for Christmas. She wants all of the students to feel like our office is a warm and welcoming place, a home away from home. She changes the theme each year, so we often see faculty, staff and students stop-in to see what's new. We even see many guests taking pictures of her creative ideas.  
This year a snowman Christmas tree on Pinterest inspired her. Once she picks the theme, she asks for volunteers from our office to help buy any new items needed and with decorating our space. 
Although the theme is new every year, we have a few traditions that we always include. We display a fireplace with stockings for each of our office employees, including all our work-study students. We decorate our window to look like a classic Christmas storefront, including a train and an animatronic Santa and Mrs. Claus. We also stop showing our financial aid informational slide show on the flat screen TV, so we can play classic Christmas movies.
We believe decorating for Christmas creates a festive and cozy atmosphere for everyone visiting the UIndy Financial Aid Office and each year we continue this tradition."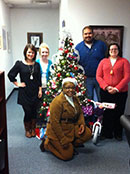 From MarQuita Hackett, director of the Office of Student Financial Aid at the University of Texas at Tyler: "This year the Office of Student Financial Aid staff selected a Salvation Army angel. We were happy to donate all the gifts on the three-year-old girl's list, including baby doll, puzzle/game, shoes, slippers, clothes, and a pink bicycle with training wheels."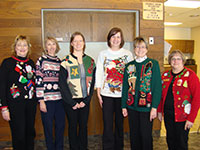 From Rita Taylor, assistant director of the Financial Aid Office at St. Cloud University: "Our office believes in having fun. In fact, we have a fun committee to make sure we plan fun activities. Last year we had an ugly sweater contest.
For the past few years, we have saved our receipts from a local grocery story, which allows us to obtain a free turkey with enough receipts. We have donated turkeys to our local women's shelter as well as a homeless shelter. I believe we donated six turkeys this year. In addition, we "adopted" a family through our local school district's homeless kids Christmas program, so we purchased gifts for the parent and children of this family.
We also have an M&M machine (like a gumball machine) in our office that allows us to raise money for charities. We do this year-round. Staff members take turns purchasing M&Ms to fill the machine, then we put in our quarters to get M&Ms when we're hungry, and the proceeds are split between the Salvation Army and the women's shelter."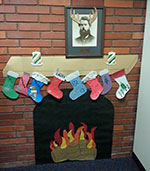 From Katy O'Neil, senior financial aid counselor at Willamette University: For their office decorations, the financial aid office at Willamette University decorates a portrait of the school's founder, Jason Lee. "We leave the fireplace and portrait up all year. Jason has many costumes..."
From Dan Mann, director of the Office of Student Financial Aid at the University of Illinois at Urbana-Champaign: "At the University of Illinois at Urbana-Champaign, staff in the Office of Student Financial Aid participate in various fundraising activities throughout the year in order to raise funds to purchase movie theater passes for children at the local Cunningham Children's Home who have no place to go on Christmas Day. The staff at the Children's Home is always appreciative of our donation and thankful to be able to provide a special and fun activity on Christmas Day that the children enjoy. We have been doing this for several years and our staff take great pride in this charitable activity and believe that this is one of the many good things that our office does!!!"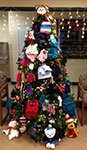 From Vicki Smith, director of Student Financial Aid Programs at Allegany College of Maryland: "The Student Financial Aid office at Allegany College of Maryland uses its annual Office Christmas Tree to collect mittens, gloves, hats, and stuffed animals, which are delivered at the end of the year to local schools and charities that help families and children."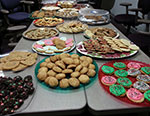 From Diane C. Reitz, senior computer programmer analyst at the Office of Student Financial Assistance at the University of Central Florida: "Since the mid 1990's, the Office of Student Financial Assistance at the University of Central Florida has found a unique way of celebrating the holidays during the first week of December that we call 'Cookie Day.' It started out as a way for our office to wish happy holidays to students who were in the middle of finals, in the building, and in line for the financial aid office. We invited Dr. David Brunner and the UCF Music Department to join us way back then.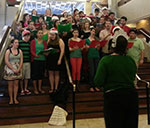 Since that time, Cookie Day has become a tradition at UCF. We look forward to it each year. We all bake cookies and many other departments in Millican Hall join in as well. The UCF chorus, brass choir, and string ensemble perform in the lobby as we give out cookies to students or anyone who comes to enjoy the concert. We have even had the children from the UCF Creative School postpone their naps and come over to enjoy the festivities. Simply put, we have found a perfect way of sharing holiday cheer and wishing our students a safe and happy holiday. Everyone really loves the music too!"
From Vicki Coppin, assistant director of the Student Service Center at Maryville University: "Financial Aid is a part of the Student Service Center at Maryville University—St. Louis. We have a tradition of bringing in new socks and donating them to the Intensive Care Unit at Cardinal Glennon Children's Hospital. Many of the children in the ICU do not have family that visit, so they often do not have basics such as socks to keep their feet warm. The nurses in the ICU purchase socks and bring them in to try to keep the sock drawer from becoming empty.
My daughter-in-law is a nurse there. When I shared the story with my co-workers, we decided to help fill the sock drawer. Each year, the Student Service Center has a bit larger box to donate. We have fun looking at the variety of socks we collect and feel good with the knowledge that we have helped to take care of such a basic need for a seriously ill child."
Publication Date: 12/17/2013
---