10 Questions With NASFAA's New National Chair, Lori Vedder
By Allie Bidwell, NASFAA Senior Reporter
Meet Lori Vedder, NASFAA's 2018-19 National Chair!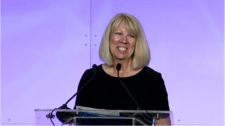 Lori is the director of financial aid at the University of Michigan-Flint, having served students and the financial aid profession for over 28 years. She got her start in financial aid as a Federal Work-Study student employed in the admissions office, which overlapped with financial aid. After a brief hiatus from the financial aid world to adjust to life as a new mom of twins, Lori made her way into a temporary role at the University of Michigan-Flint, where she remains today. "I was fortunate to be granted the opportunity to continue to learn and mature in the profession, and worked my way through multiple position changes within the OFA, becoming the director in 2002," she says.
Over the years, Lori has actively engaged in association work at the state, regional and national levels. Having chaired multiple committees, presented and moderated at many conferences, she is also a former President of MSFAA (Michigan) and MASFAA. Lori has also served NASFAA in various roles including Treasurer, Association Governance, and a member of the Statement of Ethical Principles & Code of Conduct Task Force. Lori has been honored for her work with several awards throughout her service in financial aid including the University of Michigan – Flint Staff Recognition Award, the MSFAA Henry Dykema Distinguished Service Award, MASFAA Leadership and Meritorious Service Awards, and the NASFAA Regional Leadership Award.
As she begins her tenure as 2018-19 National Chair, Lori took some time to discuss with Today's News her goals for the next year and what inspires her as a financial aid professional.
TN: What do you think is the biggest issue facing the federal aid programs right now?
LV: I think the biggest issue facing the federal aid programs is that change has been too slow to happen in regards to improving the overall process of applying for, awarding, and receiving financial aid. The lack of more federal systems communicating that could help simplify the process for students (similar to the IRS Data Retrieval Tool) and additional burdens placed in front of students all scream for simplification.
TN: What are your top three goals for your tenure as National Chair of NASFAA?
LV:
To support our continued "Fight for Financial Aid."
Ensure that we continue to seek streamlined processes to eliminate the multiple complexities around regulations and additional processes that put added barriers in front of our students and their ability to receive financial aid. Plain and simple, it shouldn't be so difficult.
Reinforce within our profession the importance of supporting one another, demonstrating professionalism, upholding our ethical standards, and continually garnering the respect of our constituents.
TN: Who has been the biggest professional influence for you over the years, and why?
LV: While there are certainly several, I must give credit to my 14 other four-year public aid directors from Michigan, both past and present. They have been the most open and supportive group of colleagues one could ask for. We reach out to one another and share feedback, sometimes several times a week. I think I can also refer to each of them as a friend.
TN: What is the best professional advice you have been given?
LV: To listen. Sounds simple, but not everyone can do it.
TN: If I were not working in financial aid, I would...
LV: Not be content.
TN: What is your favorite quote or song lyric?
LV: "Don't Stop Believin'" by Journey – after all, we have to "hold onto that feelin'," right?
TN: What's the one thing you won't skip—or shorten—in the morning?
LV: My time spent over a nice warm cup of coffee. It's my little bit of "me" time.
TN: What gadget or app saves you the most time?
LV: I hate to admit it—my phone.
TN: My most motivating financial aid experience was…
LV: Wow, there are far too many to list. From learning and growing from my work in supporting college students from foster care, each trip to Capitol Hill in DC and our state capital here in Michigan, and from a variety of student success stories, each experience has been beyond motivational. It is remarkable when you stop and think about how much we really garner from our students and how we as aid professionals can also learn from their experiences, as well as our own experiences inside and outside of the office. I don't think I could ever put my finger on just one.
TN: What NASFAA service/product is most helpful to you?
LV: While Today's News is number one, I would say AskRegs is a mighty handy tool.
Leave your welcome messages, comments, and congratulations to Hamilton in the comments section below!
Publication Date: 8/3/2018
---