Panel Brings Labor Market Failures Into Conversation Around Student Loan Debt
By Joelle Fredman, NASFAA Staff Reporter
A panel of higher education experts gathered in D.C. Thursday to discuss the relationship between student debt and employment rates in different communities across the U.S., arguing that the disconnect between higher education and labor market policy has led to an unnecessary financial burden on students.
The discussion, hosted by the Center for American Progress (CAP), was centered around the release of the group's interactive map showing the relationship between the debt burden, or the percentage of one's income used to pay off students loans, average student loan balance, and employment rate across different zip codes in the U.S. This map is the third that CAP—alongside groups Generation Progress and Higher Ed, Not Debt—published to compare data on student debt throughout the states.
Using employment data from the American Community Survey and data on student debt from credit reporting agency Experian from 2015, the most recent installment shows that the debt burden is highest where employment rates are low, as well as in areas where student loan balances exceed roughly $37,000. Kavya Vaghul, a graduate student at the Massachusetts Institute of Technology's Department of Urban Planning and Studies and contributor to the map, said during the panel that the reason for high debt burdens for some communities is a result of issues in "employment, earnings, public policy failures, and long, systemic discrimination."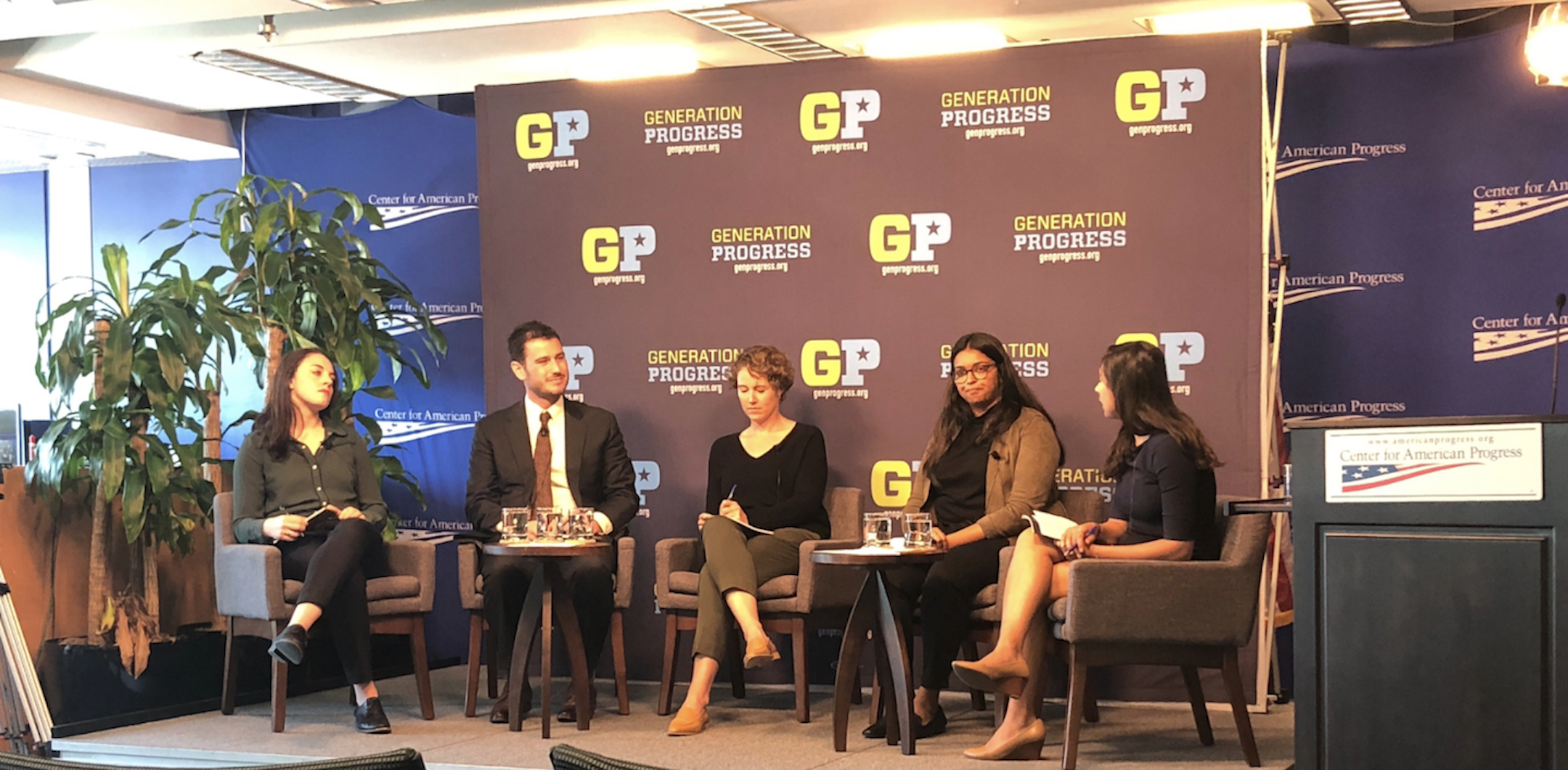 "How much a borrower is burdened by student debt really depends on their employment situation and how much they are able to make in order to pay it back. For borrowers living in neighborhoods with low employment rates and high debt burdens, low earnings may be part of a vicious cycle," she said.
Vaghul went on to say that the data raises the question about the whether "debt-financed higher education is having its intended effects," and that only by fixing issues in the labor market, such as low earnings that don't allow for loan repayment even for students with advanced degrees, can policymakers ensure that students are "prosperous."
Colleen Campbell, the associate director of postsecondary education at CAP, emphasized during the panel that the map on student debt is not meant to paint college as a bad investment, but instead to highlight that "the system itself is broken" and that "trickle-down economics is not working."
Panelist Marshall Steinbaum, research director and fellow at the Roosevelt Institute, said that it is no longer necessarily true that "all debt is good debt," and that taking out student loans to finance a higher education is a good thing because it will lead to higher wages.
"I think a sense in which that [ideology] was a major policy failure is kind of seeping into the public debate, and if it was our fault, the policymakers, why it should it be the individuals who are sort of burdened with this policy error for their whole lifetime? Why should they have to pay the cost?" Steinbaum asked.
Roosevelt Institute fellow Julia Morgan added during the panel that policymakers and institutions are giving too much power to employers by trying to offer programs that fill the skills gaps in their communities based on employers' input, when in fact students are not being offered high-paying positions that they were told were desired.
"We've created a system that has failed a generation of students," Morgan said. "... There's a disconnect between people who understand the labor market and [those who understand] higher education policy."
Morgan said that the impending reuathorization of the Higher Education Act (HEA) is an opportunity to begin thinking about how to alleviate the debt burden on all students, such as by cancelling all student loan debt, an idea which she details in a recent report alongside Steinbaum, and reexamine the role states play in funding higher education as well as in driving up tuition costs. She also highlighted the need to "reform the federal student loan program" in a way that its focus is on helping students and not on the budget.
Campbell added that we need to take into account "worker power" in a comprehensive higher education reform and how to encourage employers to pay students more, in addition to holding schools accountable for staying affordable. At the end of the day, she said, "a really big part of this puzzle is increasing investment in students."
Publication Date: 10/19/2018
---