Keep Calm and Trust Us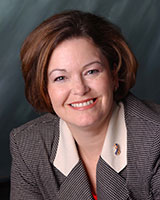 By Leslie Turner
Who can you trust these days? Gallup released the results of an interesting poll this past December where they posed the question, "Please tell me how you would rate the honesty and ethical standards of people in these different fields." Members of Congress were at the bottom with only 10% of respondents assigning a "very high" rating, sandwiched between car salesmen and advertising agencies. College teachers were much closer to the top, holding fairly steady from previous years at 53%, just barely edging out members of the clergy and right below police officers.
Any financial aid professional can assure you that the financial aid office has not fared as well in the public eye. As far as the public is concerned you can always find the villain if you just follow the money, right? And the financial aid office makes an excellent scapegoat: interest rates on subsidized Stafford Loans threaten to double each year, poor student persistence is viewed as a financial aid problem despite shrinking grant funds, mounting concerns about student loan debt are now fueled by rumors and hype surrounding sequestration and fiscal cliffhanging, and political fingers often seem to be pointing at us when we've been hit by the fallout of the public's "no confidence vote" in Congress and the very real challenges of our own institutional fiscal cliffs. In the meantime, families continue to wade through the mire of financial aid, their confusion feeding their growing mistrust.
A recent NerdScholar survey quoted in the U.S. News and World Report "My Money" blog on March 4, 2013, reported that 85% of the almost 1,100 students interviewed were "worried" about their financial aid being cut and 25% said they would rather "drop out of school than ask parents for help or take out private loans." Note the extreme overreaction – no one knows exactly how college costs will be affected, yet students are already talking about dropping out.
What to do? Is it incumbent upon the financial aid office to improve its own image? Can our image be turned around with a few well-placed ads? Not likely. What about our internal and political positioning? Do our administrative and academic peers understand the importance of our role, or have we been elbowed away from the table? Do our legislators have any direct knowledge that we are doing our part to keep costs down and improve graduation rates? Can broken trust be rebuilt?
Building and Restoring Trust
In their 2006 book, The Speed of Trust: The One Thing that Changes Everything, Steven Covey and Rebecca Merrill explain, "Low trust causes friction . . . low trust is the greatest cost in life and in organizations, including families. Low trust creates hidden agendas, politics, interpersonal conflict, interdepartmental rivalries, win-lose thinking, defensive and protective communication— all of which reduce the speed of trust. Low trust slows everything— every decision, every communication, and every relationship."
Sound familiar? He goes on to say that it takes both character and competence to build trust, and that trust can indeed be rebuilt. That's good news! Covey suggests that we must follow thirteen specific behaviors that build and restore trust. In the realm of financial aid, it's easy to see where some of these steps could be difficult but critically important, particularly the first six:
Talk straight – are we simplifying the language we use, clearing away the confusion?
Demonstrate respect – do we acknowledge and value the opinions of our students and their families, our peers, the public, our legislators?
Create transparency – what have we been keeping from the public eye, and why?
Right wrongs – when competence or policy fails, do we make amends?
Show loyalty – are we quick to throw other administrators under the bus? Who else has tire tracks on their back?
Deliver results – do we accomplish our mission?
Getting the Word Out
Once we've done everything we can to rebuild trust within our community and our organization, it's time to get the word out. Allen Howie, president of Idealogy Marketing and Design in New Albany, Indiana (idealogy.biz) has some practical advice and solid ideas for rebuilding trust. Remember to work with the office responsible for public and media relations on campus to coordinate responses and outreach.
Change the tone of the conversation. Don't make excuses for the cost - always take the opportunity to remind your audience about the proven value of an education over time. Spread the word to your students through social media, simple posters or brochures, and use public media to reach your community and legislators by pitching story ideas to local assignment editors. Make sure your staff knows how to talk up the value of investing in one's own education.
Promote your alumni successes. A look through your alumni list could pay rich dividends for those willing to tell some of their stories through testimonials. Video testimonials are particularly effective, in that the potential reach is vast and that they allow financial aid administrators to access the testimonials instantly as the need arises. Again, posters, fliers or brochures around campus could also tell those stories.
Be prepared for negative attacks. A recent public radio program focusing on student loan debt included a student who had opted for a school without financial assistance and with higher tuition. That student made a choice, but members of the media know that trying to paint the institution as the culprit rather than the individual is always a winning proposition. Don't let them go unchallenged. Have you had disgruntled students post negative attacks through social media? Don't delete those posts, and don't ignore them, either. Work with your public affairs colleagues to respond publicly, in a positive tone--and if possible contact the student privately to resolve the issue.
Be prepared for media opportunities. It makes sense to prepare a reasonable, rational rebuttal when local media seek comments on a negative story. Whether that takes the form of a press release, a letter, phone call or e-mail, there are a few important talking points to cover.

Acknowledge the challenges. Know how many of your students would not earn their degree without financial aid.
Highlight the return on investment for your graduates over time.
Acknowledge the changes in grant and scholarship funding and college costs. Be prepared to talk about new sources – and make sure you are actively pursuing new support avenues.
Reposition the value of prudent student loan borrowing. When used responsibly, federal student loans still give students a significant advantage over other types of borrowing.
Add perspective to the realities of the current economy, positioning education as a long-term investment and the best insurance against cyclical economic downturns.
Finally, recognize that your students have alternatives and make choices. Be prepared to talk about and be instrumental in helping students find smart, creative ways to reduce the cost of their own education or find their own sources of funding.
Trust can be the most valuable aspect of our position in our community, our state, and our country. Once we've earned it, we need to protect it.
Leslie Turner is a freelance writer and has served as a financial aid counselor at Indiana University Southeast, New Albany, Indiana, since 2004. She has also worked IT as a communications and education specialist and as a private business analyst. She blogs at www.healthy50s.blogspot.com.
Publication Date: 3/29/2013
---