Rate of Defaults Slows from Previous Year
The percentage of borrowers defaulting on their student loans within two years of entering repayment increased 3.4 percent, a  significantly smaller increase than the 25 percent increase from last year, according to the latest default numbers issued by the U.S. Department of Education on Friday.
The national two-year rate rose to 9.1 percent for the (fiscal year) FY 2010 cohort, up from 8.8 percent for the FY 2009 cohort and 7 percent for the FY 2008 cohort. The FY 2010 cohort default rate (CDR) measures the percentage of students whose first loan repayments came due between Oct. 1, 2009 and Sept. 30, 2010 and who defaulted before Sept. 30, 2011. The CDR has been creeping up from the historic low of 4.5 percent for the 2003 cohort.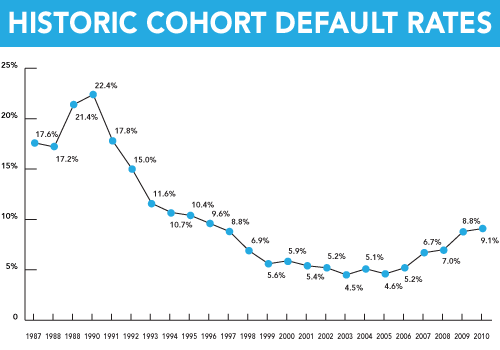 Both public and private non-profit sectors saw an increase over last year of the two-year CDR, rising from 7.2 percent to 8.3 percent for public institutions, and from 4.6 percent to 5.2 percent for private non-profit institutions. CDRs decreased for for-profit institutions from 15.0 percent to 12.9 percent, though the sector still has the highest average two-year rate.
2-Year CDR by Sector

The Department is in the process of transitioning from a two-year cohort default rate to a three-year measurement as required by the Higher Education Opportunity Act of 2008.
For the first time, the Department issued the official rate for students defaulting within three years of entering repayment. The 13.4 percent three-year CDR for the FY 2009 cohort marks a slight decrease from the trial three-year rate of 13.8 percent for the FY 2008 cohort. The Department cites for-profit institutions with the highest average three-year default rates at 22.7 percent. Public institutions followed at 11 percent and private non-profit institutions at 7.5 percent.
The three-year FY 2009 CDR is a snapshot of the cohort of borrowers whose first loan repayments came due between Oct. 1, 2008 and Sept. 30, 2009, and who defaulted before Sept. 30, 2011. During this time, more than 3.6 million borrowers from 5,900 schools entered repayment and more than 320,000 defaulted.
3-Year CDR by Sector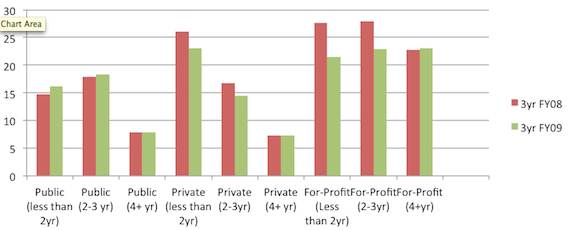 "As economic recovery limps along and the job market slowly bounces back, it's no surprise that default rates continue to trend upward," says NASFAA President Justin Draeger. "This unsettling trend is the reason NASFAA convened the Task Force on Student Indebtedness this year.  Although schools cannot control many of the elements that lead to default, we know that institutions of higher education can have a positive impact on student loan repayment rates by helping struggling students succeed academically; helping them set realistic expectations in terms of salary and work goals; and by counseling them on smart borrowing, repayment options and avoiding default." 
According to the Department, two schools are subject to sanctions, including loss of eligibility in federal student aid programs, for having two-year default rates of 25 percent or more for three consecutive years.
The Department will not enact sanctions based on the three-year rates until three annual rates have been calculated. During this transition period, sanctions will continue to be based on the two-year CDR. The HEA, however, does require any school with a current three-year CDR of 30 percent or more to establish a default prevention task force and submit a default management plan to the Department. According to the Department, 218 schools had three-year default rates over 30 percent.
Publication Date: 9/30/2012
---