ED and Financial Aid Professionals Prevent $300 Million in Improper Pell Grant Payments
The rate of improper Pell Grant payments has decreased from 3.12 percent in 2010 to 2.7 percent in 2011, Obama administration officials announced Tuesday. Administration officials estimate this prevented $300 million in improper payments in 2011.
The payment error rate in the Pell Grant program is relatively low compared to other federal programs. The government-wide payment error rate was 4.7 percent in 2011 and the rate was 8.6 percent for the Medicare fee-for-service program.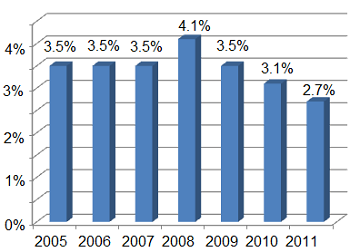 Though the Pell Grant program's error rate has decreased, the actual dollar amount of improper payments has increased from $600 million in 2009 to $1 billion in 2010 and 2011. Because the program has grown, the percentage of payment errors has declined even though the amount of improper payments has increased.
"In 2010, the Department of Education implemented a process to allow Federal Student Aid (FSA) applicants filling out online applications to go to the Internal Revenue Service (IRS) website to retrieve their income information and transfer it directly to their application," the White House said in a statement. "This process helps prevent improper payments in the Pell Grant Program by making it easier for students and parents to enter the correct tax return information and receive the correct amount of student aid."
Education Secretary Arne Duncan said FSA continues to simplify the application process. These enhancements, coupled with improved error detection, should allow FSA to further reduce improper payments.
"The low payment error rate in the Pell Grant program demonstrates that financial aid administrators and the U.S. Department of Education are taking effective steps to eliminate fraud and abuse in the federal student aid programs," said NASFAA President Justin Draeger in a statement. "At a time when Congress is looking to cut federal spending, it is more important than ever to ensure the taxpayer funds invested in the federal student aid programs are being efficiently used to help qualified, low-income students achieve their higher education goals."
The Department's efforts to reduce Pell Grant payment errors is part of the Obama administration's "Campaign to Cut Waste" and reduce improper payments in federal programs, including Medicare, Medicaid and Food Stamps, by $50 billion in 2012. In Tuesday's conference call, the administration said it has reduced improper payments by nearly $18 billion since the Campaign to Cut Waste was launched in 2010. The Obama administration also announced Tuesday it will also launch new pilot programs to further the progress being made cutting waste and fraud in Medicare and Medicaid.
Publication Date: 11/15/2011