NASFAA Staff Brief Congressional Staffers on the Federal Student Aid Programs
NASFAA advocacy, policy and research staff briefed more than 30 staffers from Representatives and Senators' offices on the history and implementation of the federal student aid programs yesterday.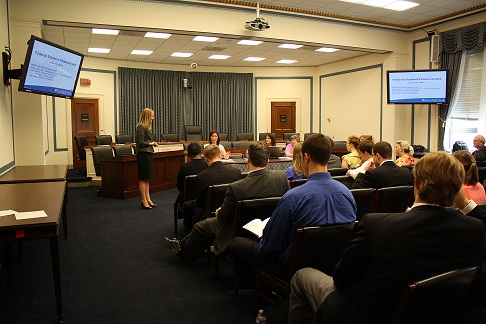 The two-hour presentation, held in the Rayburn House Office Building on Capitol Hill, provided staffers with a comprehensive overview of the Title IV programs and how they are administered on campuses across the country. NASFAA staff was joined by Anne Arundel Community College's Director of Student Financial Services Richard Heath who gave staffers a look at some of the challenges aid administrators tackle on a daily basis.
NASFAA's Director of Research Gigi Jones provided a brief history of the major Title IV programs and provided some recent statistics to demonstrate the recent increases in aid applicants, recipients and federal funding. The statistics came from NASFAA's 2011 National Profile of Programs in Title IV of the Higher Education Act which was delivered to staffers prior to the briefing.
Senior Policy Analyst Joan Berkes and Policy Analyst Karen McCarthy presented comprehensive overviews of the major loan, grant and work study programs. They also reviewed the application process and the federal methodology used to determine aid eligibility.
NASFAA's Managing Director of Federal Relations Megan McClean provided an update on federal student aid funding through the budget process and encouraged staffers to contact NASFAA to get unbiased information about the student aid programs and how they are administered at higher education institutions.
Check out more pictures from the event on NASFAA's Facebook page.
Publication Date: 6/16/2011