Newly Certified Financial Aid Administrator Lauren Greider: Certification 'Enhances the Financial Aid Community'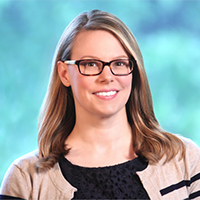 By Hugh T. Ferguson, NASFAA Staff Reporter
Lauren Greider, FAAC®, always knew that she wanted to work in higher education, but didn't know what role was best suited for her. Thanks to a staff member's recommendation during her graduate program, she discovered the world of financial aid.
"She stressed the importance of the experience that I would gain whether I stayed in financial aid or not — that the knowledge that you gain while working in a financial aid office is helpful for folks all across campus. So that's kind of what got me started," Greider said. "Like so many other people in financial aid I got started and haven't left."
Greider serves as a director of financial aid at Indiana University Southeast, and at the beginning of October will be starting as executive director of student financial services at Indiana University–Purdue University Indianapolis (IUPUI).
"I'm still within the same system, but certainly a larger campus, larger student population, and different part of the state, which will be a new experience for me," she said.
Greider — who holds a bachelor's degree in psychology and a master's degree in higher education administration, both from the University of Louisville — started at Indiana University Southeast as the associate director of financial aid in June 2015 before being promoted to director of financial aid in November 2018. Prior to her time at Indiana University Southeast, Greider was a financial aid advisor in the Office of Student Financial Aid at the University of Louisville.
Throughout her career, Greider has made use of a number of NASFAA professional credentials to help her further develop her skills as an aid administrator.
"I had previously, before the certification was available, pursued the NASFAA U credentials," she said. "So I have been working on several of those and then hearing about the certification it seemed like a natural next step."
Greider welcomed the opportunity to further demonstrate her proficiency through the Certified Financial Aid Administrator® (CFAA) Program. Having earned the designation, Greider welcomed the opportunity to showcase her expertise.
"At first I certainly had my own internal apprehensions — test anxiety and whatnot, things like that — but I always welcome the opportunity to demonstrate competency," she said. "In a field as reliant on expertise as financial aid is, I think this designation has been needed for some time and was something I was certainly interested in."
Created for financial aid professionals who are dedicated to advancing their careers, the certification program is designed to complement on-the-job expertise. This voluntary certification brings a valuable benchmark to the financial aid community, providing the foundation for continued professional development and career growth.
The steps to certification are easy enough. First, individuals must complete an application online showing they meet all qualifying criteria. Upon approval of their application, candidates schedule their online exam session during an upcoming testing window. They then prepare for the exam by reviewing the Exam Content Outline and the Core Resources identified in the Candidate Handbook. After taking the approximately two-hour exam, candidates learn the outcome immediately and are able to view a diagnostic report showing their performance in each content area.
"I definitely would encourage anyone who is considering pursuing the certification designation to go for it," Lauren said. "I think the satisfaction within yourself of knowing you completed it and the confidence boost that goes along with that is just as valuable as anything else. I think anytime someone earns the certification it not only adds to their credentials, but it also enhances the financial aid community as a whole."
Publication Date: 10/7/2020
---