The NASFAA National Conference 2012! (Part 1)
Finally, the moment I've been waiting for since starting my internship in May ... the NASFAA National Conference in Chicago! I've pinched my self a couple of times to make sure I'm not dreaming and all of this is actually happening. I write this from my hotel room on the 23rd floor looking out on some remarkably high buildings which can't be found in D.C., and Lake Michigan in the far distance, which is incredibly blue. The conference has been crazy, but fortunately I also had some time to explore the city to really get the full conference experience!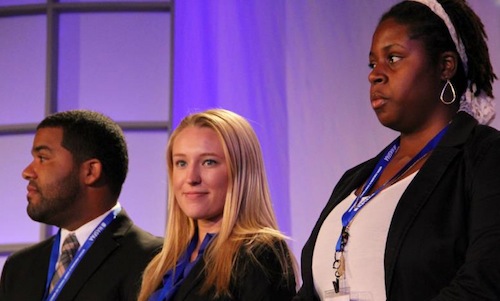 On stage with the other NASFAA interns 
Education professionals, especially those in financial aid offices, are extremely friendly, warm-hearted people who are very welcoming. It has been incredible meeting financial aid counselors, directors, and other organization members from around the country that are all interested in the same cause. I now know the true reason why NASFAA is such a valuable association in D.C. It is because of all of our passionate members! I would like to thank all of the members for being so committed to financial aid, and for helping NASFAA serve the profession and increase college access and success. I have also been humbled hearing from so many people who are following my blog. I really appreciate the support, and hope to keep you folks informed and entertained! 
There have been several highlights so far in the conference. The most notable for myself, was the discussion between President Obama's and Candidate Romney's education policy advisors. I thought it was a great conversation, and am definitely interested to learn more about the detailed policy that the candidate's propose to adopt. I also thought that Senator Durbin's speech at Monday's breakfast was uplifting and expressed his dedication to better access and affordability. He has played a central part in opening doors to many students across the country. His stories shed light on the progress we have made, and what still needs to be done. 
Stay tuned for Part 2 to read about the rest of the conference and my time in Chicago! 
Publication Date: 7/27/2012
---