NASFAA Statement on Cohort Default Rates
FOR IMMEDIATE RELEASE
Contact: Haley Chitty
Director of Communications
(202) 785-6959
chittyh@nasfaa.org
Sept. 14, 2012 -- The latest official Cohort Default Rates (CDRs), released Friday afternoon, suggest that the growth in defaults is slowing, but that avoiding student loan default remains a significant challenge for many. The two-year FY 2010 CDR increased to 9.1 percent, up from 8.8 percent for FY 2009 -- a 3.4 percent increase. This increase is much smaller than last year when the rate jumped 25 percent. The FY 2010 two-year CDR measures the percentage of students whose first loan repayments came due between Oct. 1, 2009 and Sept. 30, 2010 and who defaulted before Sept. 30, 2011. Three-year (draft) rates, on the other hand, dropped slightly from 13.8 percent in FY 2009 to 13.4 percent in FY 2010. The two-year CDR has been creeping up from the historic low of 4.5 percent for the 2003 cohort. While it's too soon to tell whether this signifies a leveling off of recent dramatic increases in the CDR, NASFAA is pleased that the rate of increase has slowed.
"As economic recovery limps along and the job market slowly bounces back, it's no surprise that default rates continue to stagnate or increase," says NASFAA President Justin Draeger. "This unsettling trend is one of the reasons NASFAA convened a Task Force to examine what schools and the federal government can do to help students make wise borrowing decisions and avoid loan default. This task force is working on a series of practical solutions that can be implemented at the federal and institutional level such as authorizing aid administrators to lower loan limits for certain academic programs, moving more struggling borrowers automatically into income based repayment, and strengthening consumer information and financial literacy.
"Although schools cannot control many of the elements that lead to default, we know that colleges can have a positive impact on student loan repayment rates and keeping overall indebtedness down," Draeger said.
NASFAA provides tips for struggling borrowers and to help students be smart consumers.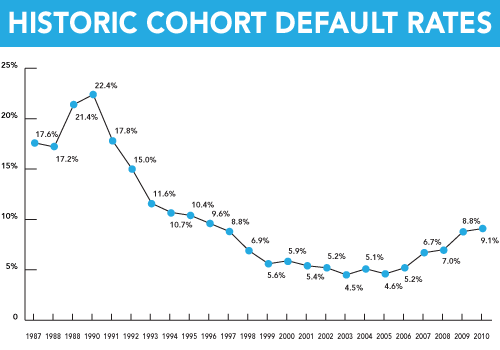 About NASFAA
The National Association of Student Financial Aid Administrators (NASFAA) is a nonprofit membership organization that represents nearly 20,000 financial aid professionals at 2,800 colleges, universities, and career schools across the country. Each year, financial aid professionals help more than 16 million students receive funding for post secondary education. Based in Washington, D.C., NASFAA is the only national association with a primary focus on student aid legislation, regulatory analysis, and training for financial aid administrators. For more information, visit www.nasfaa.org.
Publication Date: 9/14/2012