As Student Loan Default Rates Rise Again, NASFAA Offers Solutions to Curb Debt
Contact: Beth Maglione
(202) 785-6944
One In 10 Borrowers—Nearly a Half Million—Default On Student Loans Within Two Years Of Entering Repayment
Washington, DC, September 30, 2013 -- The U.S. Department of Education today released the average FY 2011 two-year and the FY 2010 three-year cohort default rates (CDRs). The two-year rate increased to 10 percent from 9.1 percent in FY 2010, and the three-year rate now stands at 14.7 percent (up from 13.4 in FY 2009). Under current rules, all schools with two-year default rates of 25 percent or greater for three consecutive years and schools with three-year default rates of 30 percent or higher for three consecutive years may lose eligibility in the federal student aid programs—a devastating outcome for any school or student body.
The two-year CDR has been creeping up from the historic low of 4.5 percent for the 2003 cohort—but has yet to come close to the historic high of 22.4 percent in 1990.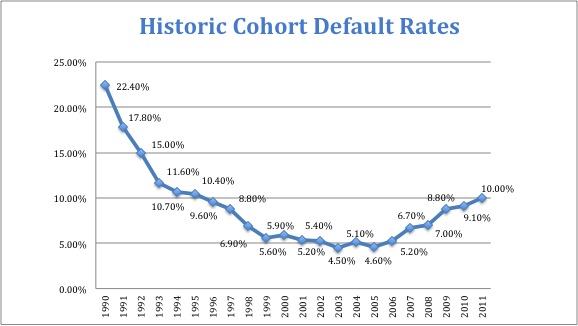 The FY 2011 two-year national CDR—the most recent data available—is a snapshot of the cohort of borrowers whose first loan repayments came due between Oct. 1, 2010 and Sept. 30, 2011, and who defaulted before Sept. 30, 2012. The FY 2010 three-year national CDR—again, the most recent data available—is a snapshot of the cohort of borrowers whose first loan repayments came due between Oct. 1, 2009 and Sept. 30, 2010, and who defaulted before Sept. 30, 2012.
Some observations:
Nearly a half-million student borrowers are defaulting on their loans within two years of repayment; 600,000 are doing so within three years
While proprietary schools have a larger average default rate of 13.6 percent, community colleges (2-3 year public institutions) have the largest default rate of any other sector, at 15 percent
Eight institutions are subject to federal sanctions this year—a low number still, but higher than any year since 1998
Student loan debt remains a hot-button issue for policymakers, higher education advocates, and students—and rhetoric about the trillion-dollar student loan "bubble" continues to garner media attention.
"These most recent data support the concept that we are experiencing a repayment crisis--as opposed to a debt crisis--when it comes to student loans," said NASFAA President Justin Draeger. "The fact that a half-million defaulters could have used deferments, forbearances, or income-contingent repayment plans to avoid the awful consequences of default—but didn't—underscores the need to keep student loan indebtedness in check and provide struggling borrowers with easy-to-reach resources."
To address these issues NASFAA recently convened three separate task forces—the HEA Reauthorization Task Force, the Reimagining Aid Design and Delivery Discussion Group, and a Loan Indebtedness Task Force—to examine student indebtedness and make recommendations about how to increase college affordability by reducing student and family debt levels. Recommendations included:
Allowing institutional authority to set loan limits for certain categories of borrowers
Creating a universal loan portal for students to help them find important information and streamline consumer information
Standardizing loan servicing policies and procedures to ensure all borrowers can easily make loan payments
Rethinking the current structure of loan subsidies and examine making income-based repayment the automatic repayment plan for all borrowers
Separating the Grad Plus and Parent Plus Loan programs and tightening underwriting standards for Parent Plus loans
Shifting traditional entrance and exit counseling toward the Department of Education's Financial Awareness Counseling Tool
Revisiting institutional requirements for private lender lists to stop discouraging schools from providing vital information to students
Implementing a "variable, fixed" interest rate based on annual market rate
"I'm pleased that we have seen some of our recommendations gain traction recently—specifically the passage of a long-term, market-based interest rate solution for all federal student loan borrowers when President Obama signed the Bipartisan Student Loan Certainty Act into law this summer," said Draeger. "But we still have a lot of work to do – as highlighted in our recent reports – to help students and families."
The FY 2009 cohort was the first cohort monitored for the new three-year CDR required by the Higher Education and Opportunity Act (HEOA) of 2008. The HEOA stipulates that any sanctions that would result from the new three-year CDRs are not effective until there are three sets of official three-year rates (i.e., not until 2014). FY 2011 is the last time the two-year rate will be calculated. Beginning in 2014, only three-year rates will be published.
About NASFAA
The National Association of Student Financial Aid Administrators (NASFAA) is a nonprofit membership organization that represents nearly 20,000 financial aid professionals at more than 3,000 colleges, universities, and career schools across the country. NASFAA member institutions serve nine out of every ten undergraduates in the U.S. Based in Washington, DC, NASFAA is the only national association with a primary focus on student aid legislation, regulatory analysis, and training for financial aid administrators. For more information, visit www.nasfaa.org.
Publication Date: 9/30/2013