Settling Into A Daily Routine

Hello NASFAA members!
Wow! What an eventful and BUSY first two weeks it has been! I've come to realize that at NASFAA, just like at a financial aid office, there are busy times, and very busy times. And with that, there are certain projects or matters requiring significantly more energy and attention. This past week, a considerable amount of my time has been spent working with students affected by the Corinthian Colleges closure. My supervisor Charlotte and I oversee the ticket system that students must go through before they are connected with a counselor. In addition, I have been assisting in the training of the financial aid volunteers responsible for reaching out to the affected students. This has involved many conference calls and emails back-and-forth with the volunteers, most of whom are members of the California Association of Student Financial Aid Administrators (CASFAA). Although the volume of ticket traffic has been gradually decreasing, this will continue to remain one of the primary projects that I will be working on this summer.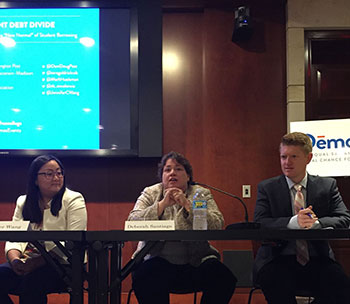 Later in the week, I also had the opportunity to attend an event at the U.S. Capitol Visitor Center entitled "The Student Debt Divide: The Racial and Class Bias Behind the 'New Normal' of Student Borrowing." The gathering, which featured a panel of four higher education researchers and professionals, was intended to bring the issue of student debt, and its long-lasting effects, to the forefront of higher education policy. Sara Goldrick-Rab, professor of educational policy studies at the University of Wisconsin-Madison, captured the audience's attention when she likened the inequity that some classes of people face when getting through college to the civil rights movement. This event in particular was by far one of my favorites that I've attended simply because the nature of the discussion was so forward-thinking and left those in attendance feeling empowered.
The third project that has kept me busy so far is preparing for the release of the 2015 National Student Aid Profile. Those on the policy team at NASFAA have spent this time reviewing the Profile in meticulous detail to ensure it is ready to be released for our annual event on Capitol Hill! It's exciting to see the progress we've made so far and the commitment each of us have to make this year's Profile event one to remember!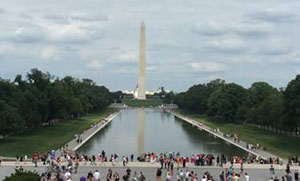 Outside of work, as I begin to become more comfortable with the D.C. Metro, I have been more willing to venture out. In doing so, I've been able to admire the rich history and beautiful scenery that D.C. has to offer. So far, I have found that the best resource to help me navigate my way around the city is to ask the locals for help. At times it can be difficult because it seems as though everyone in D.C. is in a rush 24/7, however, I've noticed for the most part people are very willing to take a moment and help you figure out where it is that you need to go and how to get there.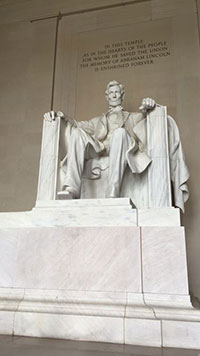 The one thing I am, unfortunately, still struggling to cope with is the humidity. I never really understood why people would say that Arizona heat is much more tolerable because it's a "dry heat," but after getting to experience the humid heat firsthand, I completely get what they are saying. Hopefully (sometime soon) my body will be acclimated to this environment so I can continue to go out and take advantage of all the amazing things to do!
As I look at next week's schedule, there are several exciting meetings and projects happening that I look forward to getting to share with you! In the meantime, I welcome and encourage you to contact me directly by email at floresa@nasfaa.org or leave questions/comments in the comments section below.
Stay tuned to Today's News for more Angel's Angle blog entries from Angel Flores, NASFAA's summer 2015 policy intern for the Dallas Martin Fund for Education (DME) in Public Policy and Student Aid, and check out his Facebook album for pictures he's taken while in D.C.
Publication Date: 6/19/2015
---