NASFAA's Leadership and Legislative Conference and Expo Kicks Off
By Brittany Hackett, Communications Staff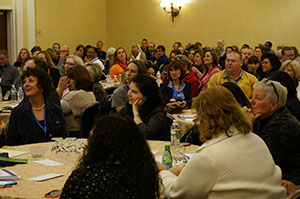 NASFAA's 2015 Leadership and Legislative Conference and Expo kicked off on Sunday with sessions focused on what to expect when leading a financial aid office in the first year and how to effectively lead change within a state or regional association.
The conference features for the first time two separate pathways – Association Management and New and Aspiring Aid Directors – that allow attendees to spend two and half days exploring issues and diving deep into their chosen topic.
During the first day, attendees on the New and Aspiring Aid Directors Pathway heard from experienced financial aid directors about the challenges they can expect to face in their first year as directors of their own offices. The session covered topics ranging from how to develop relationships with students, staff, and campus colleagues, to the need to create a policies and procedures manual and other similar documents. It also featured as a "small group" portion where attendees were able to discuss their concerns and issues with their peers.
Attendees of the New Aid Directors track "really like it because it's not something that's been offered before, so they really appreciated the small group time," said presenter Cristi Millard Easton of Salt Lake Community College. 
Justin Chase Brown of University of Missouri- Columbia cited professional development as his goal for participating in the New Aid Directors pathway, adding that other conferences within the profession focus on compliance and regulatory issues rather than personal development.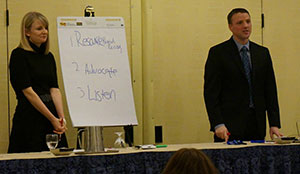 NASFAA President Justin Draeger and Policy and Federal Relations Managing Director Megan McClean also addressed conference attendees on Sunday, describing what they can expect when they visit Capitol Hill later in the week to speak with lawmakers and staffers from their home districts about financial aid policies.
One of the primary goals in visiting the Hill is the become a resource for lawmakers and their staff who work on financial aid issues, and as the experts in the field, financial aid administrators can play a significant role, Draeger said. He added that the visits are also an important opportunity to hear what lawmakers are concerned with and to provide them information that will help create better policies for students and families. 
McClean shared with attendees three financial aid issues that are currently gaining the most traction on the Hill: simplification, including simplifying the FAFSA; the Pell Grant Program; and issues surrounding indebtedness, student borrowing, and repayment.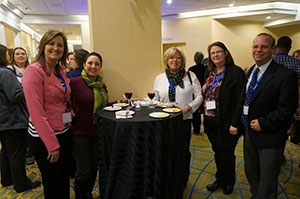 Over the next two days of the Conference, attendees will hear from aid administrators on topics such as public speaking and effective leadership. They will also hear from higher education advocates during today's Legislative Symposium, which will include conversations on free community college proposals and funding for federal financial aid programs. Stay tuned to Today's News for more coverage of the Conference and check out pictures on Facebook!
Publication Date: 3/2/2015
---