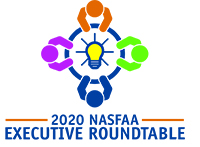 February 4-6, 2020
The Mayflower Hotel
1127 Connecticut Ave NW
Washington, DC 20036
NASFAA is excited to present financial aid directors, vice presidents, deans, or other principals working in or supervising a financial aid office with this inaugural, exclusive opportunity to take part in a focused, interactive, interpersonal exchange of ideas. This unique experience cannot be duplicated in the traditional conference format. Discover the uncommon wisdom this roundtable will produce as we delve into issues surrounding your voice on campus, emerging trends in student affairs, and strategic planning. Engage in extensive networking with invited guests, lawmakers and Capitol Hill staffers, and representatives from other D.C.-based higher education organizations. Participation is limited to 50 attendees who are campus leaders in financial aid and enrollment management.
As an attendee, you'll benefit from:
Networking with other leaders in the profession and forming relationships with a cohort of peers you can rely on for advice and guidance as you progress along your career path as a leader.
Actively participating in discussions important to the profession, getting answers to your burning questions, and reflecting on key concepts of the day.
Receiving summary content from the event in its entirety so you can take what you've learned with you and apply it.
Executive Roundtable Founders and Program Leaders
Mary Nucciarone, Chair, Director of Financial Aid, University of Notre Dame
Brenda Burke, Executive Director of Financial Aid and Scholarships, University of Utah
Derek Kindle, Director of Student Financial Aid, University of Wisconsin - Madison
Karen Krause, Executive Director Financial Aid, Scholarships, & VA Benefits Certification, University of Texas at Arlington
Randall McCready, Executive Director of Financial Aid, University of Pittsburgh
Thomas McWhorter, Dean of Financial Aid, University of Southern California
Brent Tener, Director of Student Financial Aid and Scholarships, Vanderbilt University
Meet the Founders & Program Leaders

Registration Information
Inaugural event pricing is $550, which includes a networking reception Tuesday evening and breakfast and lunch on Wednesday.
Special Requests / Attendees with Disabilities
Meal Requests
Requests for special meal accommodations should be submitted at the time of registration via the registration form, but no later than January 10, 2020; requests for accommodations submitted after the deadline will be considered, but NASFAA may not be able to provide the requested accommodation due to lack of advance notice.
Sign Language Service Requests
Requests for sign language interpreters should be submitted via email to membership@nasfaa.org no later than December 16, 2019; requests received after the deadline will be considered, but NASFAA may not be able to provide the requested accommodation due to lack of advance notice.
American with Disabilities (ADA) Act
The Mayflower Hotel is ADA compliant.
Media
This event is closed to members of the media.
Hotel Information
The Mayflower Hotel
1127 Connecticut Ave, NW
Washington, DC 20036
(202) 347-3000
Room rate: $234 single/double, average (plus taxes)
Please note: This hotel block is sold out. If you need a hotel room, please see the Overflow Hotel information below. Attendees may still manage existing Mayflower Hotel reservations online, but additional dates may not be available.
Conveniently located near the Farragut North Metro Station in downtown Washington, DC, this hotel is the perfect base to see the sights of the nation's capital. The national monuments, government agencies, and museums are accessible via the Metro or a walk if you are feeling energetic.
Overflow Hotel
The Wink Hotel
1143 New Hampshire Ave, NW
Washington, DC 20037
(202) 775-0800​
Room rate: $129 single/double (plus taxes)
Located within a 10-minute walk of The Mayflower hotel, The Wink, a spirited blend of history, hospitality, and personality. After all, DC contains much more than politics; it's also home to art, culture, food, fashion, and the kind of good times that can only be found within the eclectic neighborhoods of our Nation's Capital.

At The Wink, guests will find themselves perfectly positioned to experience the tried-and-true aspects of Washington, DC, while simultaneously surrounding themselves with the unique, one-of-a-kind neighborhood culture near Dupont Circle.
View more information about transportation between the Wink Hotel and the Mayflower Hotel.
Housing Policies
Reservations may be made online or by calling the hotels directly.
Reservations must have been made by Jan. 13, 2020. The negotiated group room rate will not be guaranteed after January 13.
A credit card guarantee is required to confirm a reservation.
Reservations can be canceled up to 72 hours prior to arrival without penalty. If complete cancellation of an individual reservation takes place within 72 hours of the scheduled arrival a cancellation fee equal to one night's room revenue will be charged.
Cancellation Policy
When you register for this event, you are agreeing to comply with the cancellation fee schedule:
$25 (Through December 6)
$50 (December 7–31)
$75 (January 1–24)
If you do not cancel by 5:00 p.m. ET Jan. 24, 2020, you will be responsible for the full amount of the registration fees and will be billed.
Please Note: These fees apply to both "Pay Now" and "Pay Later" registrations.
NASFAA Event Conduct Policy
NASFAA is committed to providing a safe, productive and harassment-free environment at its conferences, trainings, board and committee meetings, and other NASFAA-sponsored events.
If you have questions about this event, please contact Dana Kelly at kellyd@nasfaa.org, or 202-785-6968.