Thank you for your interest in NASFAA Webinars.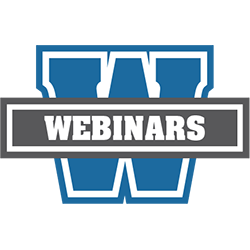 The following topics are scheduled for 2017-2018. Please note that they are subject to change; be sure to return in the coming months for more information.
Most webinars are $120 for members, and $240 for non-members. Webinar Package purchasers and Value Plus members still need to register in advance for each webinar they plan to attend; during the registration process, the balance will be $0.
All webinars begin at 2 pm ET unless otherwise noted and last 60 - 90 minutes. Archives are usually available after the webinar for purchase; these archives are also free to webinar package purchasers.
Learn more about the topics covered and presenters for each of our webinars using the links below.
2017-18 Webinars
Student Eligibility Spotlight
January 24, 2018 - In addition to explaining student eligibility database matches and the role of agencies such as CPS and NSLDS, this webinar will also shine a spotlight on interesting citizenship questions that have been asked by your colleagues around the country.
NASFAA Tools: How My School Benefited from a Peer Review
February 8, 2018 - *NASFAA Product & Services Webinar* Register for this webinar to hear from a panel of schools about the benefits of a NASFAA peer review.
The Ethics of Enrollment Management
February 21, 2018 - In the world of Financial Aid and Enrollment Management, we are often faced with conclusions that call into play incorporating ethics in decision-making. Join us for this discussion.
Graduate/Professional School Town Hall
March 7, 2018 - NASFAA is providing this town hall webinar as a forum for graduate and professional aid administrators to discuss current issues of concern for graduate and professional students and aid administrators.
Trending Legal Issues in Financial Aid
March 14, 2018 - This webinar will provide financial aid directors with an overview of key legal issues emerging from current Title IV-related enforcement activities, both in and out of the Department of Education.
Student Financial Wellness in a Credit Card World
April 18, 2018 - Learn about JMU's course for seniors that reviews the affect a personal philosophy on money, influence of societal expectations, and management of personal finances, has on all aspects of life when it comes to securing the "American Dream."
NASFAA Tools: Student Aid Index and Compliance Engine
May 10, 2018 - *NASFAA Product & Services Webinar* Learn how to utilize NASFAA's Student Aid Index and Compliance Engine.
Return of Title IV Funds: Modules
May 16, 2018 - This webinar provides an overview on how to determine when an academic program is offered in modules and when a student has withdrawn from such a program.
NASFAA Policy Update
May 22, 2018 - NASFAA Policy Update webinars provide an opportunity for the NASFAA membership to ask policy and regulatory questions. NASFAA staff will be on hand to answer questions and offer explanations.
Top Five Compliance Issues and How to Avoid Them
June 6, 2018 - In this session, we will review the top five compliance issues identified by the Department of Education, and discuss ways to avoid them.
Technical Requirements
Before accessing your webinar, ensure you meet the technical requirements. You also will need to download Flash Player, and we highly recommend using Google Chrome as your browser while viewing the webinars. Contact webinars@nasfaa.org with any questions.