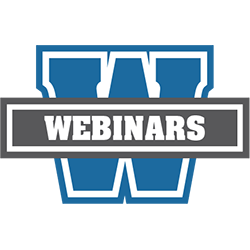 Thank you for your interest in NASFAA Webinars. Our live webinars bring you the latest information on a variety of important topics and encourage you to actively engage with NASFAA staff and featured presenters from the government, partner organizations, and fellow aid offices.
All webinars begin at 2:00 pm ET, unless otherwise noted, and last 60 to 90 minutes. Archives are usually available after the webinar for purchase; these archives are also free to webinar package purchasers.
The following topics are scheduled for 2018-2019. Please note that they are subject to change; be sure to return in the coming months for more information.
Upcoming 2018-19 Webinars
NASFAA Policy Update
May 29, 2019 - (Please note date changed) - NASFAA Policy Update webinars provide an opportunity for the NASFAA membership to ask policy and regulatory questions. NASFAA staff will be on hand to answer questions and offer explanations.
Sharing Student FAFSA Data to Assist Students: What is Permitted?
June 5, 2019 - Appropriations bills passed by Congress in 2018 and 2019 included expanded FAFSA data sharing authority that, among other things, can assist institutions in proactively identifying student eligibility for means tested benefits, scholarships, and emergency funding. Learn what the expanded data sharing authority permits and how your institutions can best serve your students using this new authority.
Pricing
Most webinars are $120 for members, and $240 for non-members. Webinar Package purchasers and Value Plus members still need to register in advance for each webinar they plan to attend; during the registration process, the balance will be $0.
Certificate of Attendance
NASFAA provides a printable certificate of attendance to webinar attendees. A certificate is available only to the individual who logs into the webinar console. Since webinars are purchased at an institutional level, all members of the institution are able to log into the webinar at no additional cost.
Technical Requirements
Before accessing your webinar, ensure you meet the technical requirements. You also will need to download Flash Player, and we highly recommend using Google Chrome as your browser while viewing the webinars. Contact webinars@nasfaa.org with any questions.
Informational Video
Want more info? Watch our quick video to learn how you and your colleagues can benefit from NASFAA webinars.