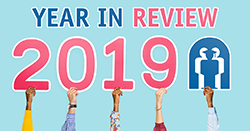 The past year was anything but dull for the higher education community.
Take a look back at NASFAA's policy and advocacy efforts — including reports and issue briefs we published, hearings we took part in, letters we sent, and comments we submitted — as well as our most popular original articles and podcast episodes, our Membership Spotlight series, and some of the biggest financial aid news from 2019.
2019 Year in Review: NASFAA's 10 Most Popular Original Articles


November 26, 2019

-

2019 was an exciting year for financial aid policy. From ringing in the year with a government shutdown to seeing some significant strides in the reauthorization of the Higher Education Act (HEA), the past year has kept us busy as we sh...

2019 Year In Review: Our Featured Member Spotlights


December 2, 2019

-

NASFAA members are constantly going above and beyond to help their students succeed in higher education. The following stories feature initiatives that our members have pursued over the last year that exceed the traditional scope of res...

2019 Year in Review: NASFAA's Policy, Grant, and Advocacy Efforts


December 9, 2019

-

In 2019, NASFAA and its members across the country made great strides in influencing important policy decisions regarding college access, affordability, simplification, and transparency. NASFAA engaged in numerous advocacy, grant-funded...