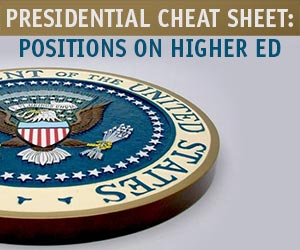 As the 2020 presidential election ramps up, NASFAA continues to closely monitor the candidates as higher education policy positions emerge.

This page serves as a compilation of the current Democratic and Republican presidential candidates' stated positions on higher education and student aid issues. While NASFAA regularly takes positions on higher education policies, the association does not support or endorse any candidate for elected office.
Below you will find a list of each candidate with links to resources outlining their stances on various higher education and student aid issues. Candidates with new information are denoted with a red "UPDATED" tag next to their names. The candidates are listed in alphabetical order:
Democrats
Joe Biden, former Vice President
Biden has been supportive in the past of free community college, as part of President Obama's America's College Promise proposal. In 2015, Biden supported four years of "free college" (Inside Higher Ed), however he now proposes to make community college free (Education Next). Additionally, he would like to make sure that PSLF is "fixed, simplified, and actually helps teachers." (Joebiden.com) In an exchange with a student during a campaign event in August, Biden said borrowers should not have to make payments toward their loans until they are earning at least $30,000, and loans should not accumulate interest before borrowers begin earning that amount. He also said he would reduce the percentage of income that borrowers repay in income-driven repayment plans from 10% to 5%. (Forbes). Biden in October released his official plan for higher education, which included doubling the maximum Pell Grant award, automatically enrolling borrowers into income-driven repayment plans, and restructuring PSLF to allow for borrowers to receive $10,000 in debt relief "for every year of national or community service, up to five years" (https://joebiden.com/beyondhs/).
*UPDATED* Former Mayor Michael Bloomberg (New York, NY)
In February, Bloomberg released his official plan to reform higher education, which included doubling the maximum Pell Grant, creating an incentive program for states to reinvest in higher education, and reinstating Obama-era gainful employment regulations. He also took aim at the federal student loan system, proposing to enroll all new and existing student loan borrowers into IDR plans and to cap monthly payments at 5%. Bloomberg's plan includes forgiving loans after 20 years and ensuring that debt relief is tax-free for families making less than $250,000. Bloomberg wrote he would work to pass the College Transparency Act — which would repeal the student unit record ban and the create a student-level postsecondary data system — "and use it to measure institutions' improvements." He also proposed free community college for all students, and free four-year tuition for low-income students.
Mayor Pete Buttigieg (South Bend, IN)
In April, Buttigieg stated that he opposes "free college" based on concern that higher-paid individuals would be the primary beneficiaries, at the expense of lower-paid individuals (Inside Higher Ed). However, in May he demonstrated support for debt-free college for lower-income students through a federal/state partnership, Pell Grant expansion (indexing to inflation), and student loan refinancing. He also emphasizes that HBCUs "deserve to receive more dedicated support" (peteforamerica.com). In a Vice interview, Buttigieg stated his support for expanding loan forgiveness for teachers and public servants, however he believes that wiping away debt may not be the best approach due to cost. Buttigieg in July released a proposal to increase the number of service opportunities available to students from 75,000 to 250,000, and further to 1 million positions by 2026. The proposal would offer "consideration for public service student debt forgiveness, vocational training, and hiring preference for service fellows." Buttigieg also in July released a proposal for limited student debt cancellation for those who attended low-quality higher education programs. The plan also called for increased funding for Historically Black Colleges and Universities and minority-serving institutions. In November, Buttigieg released his official proposal for improving college affordability, which included free tuition for 80% of families, a $1,000 increase to the maximum Pell Grant award, and improvements to PSLF and loan forgiveness. He also proposed that the federal government complete most of students' FAFSAs, and notify freshman in high school of their eligibility for Pell Grants (https://peteforamerica.com/policies/education/).
Rep. Tulsi Gabbard (HI)
Gabbard has co-sponsored the House version of Sen. Bernie Sanders' College for All Act as well as helped introduce the Forever GI Bill, which calls for the extension of GI Bill benefits for veterans (gabbard.house.com).
Sen. Amy Klobuchar (MN)
Klobuchar is largely in support of expanding affordable apprenticeship opportunities. She is a lead sponsor of the American Apprenticeship Act, which would provide financial support for states to create or expand tuition assistance programs for participants completing apprenticeships. She also introduced a bill that would expand the uses of 529 Education Savings Accounts to include training and credentialing programs (klobuchar.senate.gov). Klobuchar is in support of free community college, however, she opposes free four-year college due to concerns over financial feasibility. She is in support of Pell Grant expansion and loan refinancing (CNN Town Hall). She co-sponsored Sen. Kirsten Gillibrand's What You Can Do For Your Country Act. Klobuchar released her higher education platform in October, in which she proposed to double the maximum Pell Grant award and expand access to incarcerated students, restore the Obama administration's borrower defense regulations, and open PSLF to borrowers working "in-demand" jobs, whose debt she would forgive after 10 years of being enrolled in an income-driven repayment plan. She also proposed free tuition for students in one- and two-year community colleges and technical degree programs (https://medium.com/@AmyforAmerica).
Mayor Wayne Messam (Miramar, FL)
Messam has identified the elimination of student loan debt as one of his top priorities, proposing that he would finance this reform through the repeal of the tax cuts implemented under the Trump administration (Sun Sentinel).
Sen. Bernie Sanders (I-VT)
His "College for All Act" (summary) would provide $47 billion per year to eliminate undergraduate tuition and fees at public colleges and universities. He proposes an expansion of the Federal Work-Study program and shifts the allocation formula to be based off of the aggregate need of institutions' students. The reform would be financed by a Wall Street speculation fee. Co-sponsored Sen. Kirsten Gillibrand's What You Can Do For Your Country Act. Sanders in late June proposed cancelling all $1.6 trillion in outstanding student loan debt, including private and graduate school debt, paid for through a tax on Wall Street that he said would generate $2 trillion in 10 years. The plan would also make public universities, community colleges, and trade schools tuition-free.
Tom Steyer
Steyer supports "the right to learn," and stated that the government "must protect the right to a free, quality, public education from preschool through college and on to skills training." (TomSteyer.com)
Sen. Elizabeth Warren (MA)
Warren is in support of universal free public college through federal/state partnerships, as well as a prorated loan forgiveness program based on household income. Other highlights of Warren's platform include Pell Grant expansion; an emphasis on institutional accountability for the improved completion rates of lower-income students and students of color; the ban of federal funding for for-profit colleges; and the option for federal loan refinancing. Warren stated she will introduce bill to cancel up to $50,000 in student loan debt for every borrower with a household income under $100,000. Prorated debt cancellation would also be expanded to borrowers with household incomes between $100,000 and $250,000. The forgiven student debt would not be taxed as income. Warren has also included private loans in her debt cancellation proposal. Costs are estimated at $640 billion, which would paid through her proposed Ultra-Millionaire Tax (Medium). Warren co-sponsored Sen. Kirsten Gillibran's What You Can Do For Your Country Act. Warren in July officially released a bill that would cancel $640 billion in student loan debt, spelling out the details of her student debt plan announced earlier this year. Warren in January said that she would cancel most student loans as president through executive action, writing that the Department of Education "already has broad legal authority to cancel student debt, and we can't afford to wait for Congress to act" (Warren campaign website).
Republicans
President Donald Trump
President Trump has proposed deep cuts to the Department of Education as a whole, and specifically to student financial aid programs. His fiscal year 2018 budget proposal for example, would have cut about $150 billion from federal student aid programs over 10 years. His most recent budget proposal reiterated his support for hard-hitting cuts to the federal student aid programs, and included a $2 billion rescission from the Pell Grant reserve funds. He has also proposed eliminating subsidized loans, Public Service Loan Forgiveness, reducing Federal Work-Study funding, and increasing risk-sharing with institutions. He has supported a more streamlined loan repayment process and shift in the Federal Work-Study allocation formula so institutions would receive funds based on the number of Pell Grant recipients the institution enrolled (The Chronicle of Higher Education). Trump has proposed that student loan forgiveness be made available to all borrowers with undergraduate and graduate student loans who participate in a single income-driven repayment plan. Borrowers would pay 12.5% of their discretionary income and would receive student loan forgiveness after 15 years for their federal undergraduate student loans and after 25 years for federal graduate loans (Forbes). Trump in August signed an executive order forgiving all student loan debt for any permanently disabled U.S. military veterans. (Fox News)
Former Rep. Joe Walsh (IL)
Hasn't made statement on higher education.
Former Gov. Bill Weld (MA)
Weld has emphasized using online education as a method to cut down on room and board costs. He has mentioned that most jobs now require two years of college education and is in support of covering in-state tuition for workers who have been displayed by the rising job credential threshold (Boston News)
No Longer Running:
*UPDATED* Sen. Michael Bennet (CO) [Dropped out of the race Feb. 11, 2019]
Supports the simplification of the financial aid process and expansion of the year-round Pell Grant (bennet.senate.gov). Bennet in September fleshed out his higher education platform, calling for free community college and making four-year public colleges debt-free for students from families making up to $75,000. Bennet also proposed expanding dual enrollment, apprenticeship, and expanding Pell Grants "for lifelong learning" and "technical training" (michaelbennet.com).
Mayor Bill de Blasio (New York City) [Dropped out of the race Sept. 20, 2019]
Hasn't made statement on higher education.
Sen. Cory Booker (NJ) [Dropped out of the race Jan. 13, 2020]
In support of free public two- or four-year college implemented through federal/state partnership. Co-sponsored Sen. Brian Schatz's debt-free college bill. Cosponsored Sen. Kirsten Gillibrand's What You Can Do For Your Country Act. Sponsored a FAFSA simplification bill that is in line with NASFAA's FAFSA simplification proposal. Introduced a bill that would provide a $1,000 account for every baby born to save for college (or pay for a home) (booker.senate.gov).
Former Gov. Steve Bullock (MT) [Dropped out of the race Dec. 2, 2019]
Bullock's official plan for higher education involves offering tax credits to employers who help students pay off their loans, directing ED to "prioritize grants and loan forgiveness" for borrowers working in high-need communities, and expanding Pell Grants to students earning "employer-recognized" certificates. He also proposed to make community college tuition-free (https://stevebullock.com/).
Julian Castro, former Secretary of Housing and Urban Development [Dropped out of the race Jan. 2, 2020]
Castro is in support of making the first two years of college, certification programs, and apprenticeships free. He would offer partial loan forgiveness for people who receive specific public assistance benefits. Proposes to reform the loan repayment process so that borrowers' payments are $0 until they're earning at least 250% above the federal poverty line. Once at that level, they would not pay more than 10% of their adjusted gross income with an amount equivalent to 250% of the federal poverty line exempted. Other issues that Castro has highlighted are the expansion of the Pell Grant program, reforming Public Service Loan Forgiveness (PSLF), the termination of support for for-profit colleges, and increased institutional transparency through the expansion of the of College Scorecard (Julian for the Future).
Rep. John Delaney (MD) [Dropped out of the race Jan. 31, 2020]
Introduced legislation to allow student loans to be discharged under bankruptcy. In support of guaranteed community college or technical training, but doesn't state whether tuition-free or debt-free (Johndelaney.com).
Sen. Kirsten Gillibrand (NY) [Dropped out of the race Aug. 28, 2019]
In support of free public two- or four-year college implemented through federal/state partnership. Co-sponsored Sen. Bernie Sanders' College for All Act and endorsed Sen. Brian Schatz's "debt-free" college bill. Proposed that student loan borrowers have the option to refinance loans at 4%. In April, Gillibrand introduced the What You Can Do For Your Country Act, which would expand eligibility for Public Service Loan Forgiveness so every type of federal loan and repayment plan would be included in the program. Borrowers would be able to receive partial forgiveness after five years of public service (Gillibrand.senate.gov). Gillibrand in June outlined a plan that would provide individuals with tax-free financial assistance to attend two years of public or community college tuition-free in exchange for one year of public service, and four years of college tuition-free in exchange for two years of pubic service (Fox News).
Former Sen. Mike Gravel (AK) [Dropped out of the race Aug. 6, 2019]
Has proposed a Fair Education Reform to make all public universities and graduate school "absolutely tuition free," a one-time "Student Debt Jubilee" wiping away all student debt, as well debt forgiveness of up to $25,000 of private student loans (MikeGravel.org).
Sen. Kamala Harris (CA) [Dropped out of the race Dec. 3, 2019]
Harris is in support of free public two- or four-year college implemented through federal/state partnership. Co-sponsored Sen. Bernie Sanders' College for All Act and endorsed Sen. Brian Schatz's "debt-free" college bill. Cosponsored Sen. Kirsten Gillibrand's What You Can Do For Your Country Act. Displayed support for greater for-profit college accountability after addressing a student at a CNN town hall stating, "we need to get rid of the for-profit college that are preying on students like you" (Interview Transcript). Harris has stated that she would invest money into Historically Black Colleges and Universities (HBCUs) and other Minority-Serving Institutions (MSIs) to address underrepresentation of teachers of color (kamalaharris.org). Harris in July released several higher education-related proposals, including a complex plan to reduce student loan debt. Under the plan, Pell Grant recipients with student loans who start a business that operates for three years in disadvantaged communities would have up to $20,000 of their debt forgiven. She also pledged to invest $60 billion in historically black colleges and universities, and introduced a bill that would ensure college students "are able to afford basic, day-to-day necessities." The bill, dubbed the Basic Assistance for Students In College (BASIC) Act, was co-sponsored by Sens. Dianne Feinstein (D-CA) and Elizabeth Warren (D-MA).
Former Gov. John Hickenlooper (D-CO) [Dropped out of the race Aug. 15, 2019]
In support of free community college and has stated that if elected, he would "launch the biggest expansion of apprenticeships and training in American history" (Politico). He has stated that he would bring down interest rates to 2.5% or "as low as [he] can get it without taking any risk" (Cheddar).
Gov. Jay Inslee (D-WA) [Dropped out of the race Aug. 21, 2019]
Hasn't made statement on higher education.
Rep. Seth Moulton (D-MA) [Dropped out of the race Aug. 23, 2019]
Moulton has proposed a National Service Education Guarantee that would provide prorated tuition assistance to in-state students who complete service programs such as AmeriCorps, FEMA Corps, or AmeriCorps VISTA. In early June, Moulton said that while he believes there should be consideration for a debt forgiveness program, his first priority is the needs of those who have not attended college (CNN Interview Transcript).
Former Sen. Richard Ojeda (D-WV) [Dropped out of the race Jan. 25, 2019]
Ojeda has in the past said he wanted to make higher education a priority, and help low- and middle-income students afford rising tuition costs (WCHS).
*UPDATED* Former Gov. Deval Patrick (MA) [Dropped out of the race Feb. 12, 2019]
Former Massachusetts Gov. Deval Patrick formally entered the 2020 presidential race on November 14. While he has not yet released a formal education platform, he has said he would like to significantly reduce or eliminate student loan debt, but that there are "other strategies than we've heard about" to do that (The New York Times).
Former Rep. Beto O'Rourke (TX) [Dropped out of the race Nov. 1, 2019]
O'Rourke is in support of free community college and debt-free four-year college. He supports both student loan refinancing and an expansion of the Public Service Loan Forgiveness program (Inside Higher Ed). O'Rourke in July proposed eliminating all student loan debt for public school teachers (Forbes).
Rep. Tim Ryan (OH) [Dropped out of the race Oct. 24 2019]
Co-sponsored the College For All Act, the Debt-Free College Partnerships Act, and the Aim Higher Act (timryan.house.gov).
Former Gov. Mark Sanford (SC) [Dropped out of the race Nov. 12, 2019]
Sanford has not yet made any statements on higher education.
Former Rep. Joe Sestak (PA) [Dropped out of the race Dec. 1, 2019]
Sestak supports providing states with grants to support tuition at community colleges and public universities, and making federal student aid and loans contingent on universities keeping annual tuition increases at or below inflation. Sestak's platform includes restructuring federal student loans "so the government no longer makes a profit off of students attempting to improve themselves," establishing a national college credit transfer system, and creating a "Training for a Lifetime" program to increase opportunities for job training and continuing education. (JoeSestak.com)
Rep. Eric Swalwell (D-CA) [Dropped out of the race July 8, 2019]
Swalwell is in support of lowered interest rates, loan refinancing, and expanded loan forgiveness programs. He supports free community college for the first two years. He has highlighted the need for greater transparency of institutional spending through IPEDS as well as increased communication between loan servicers and borrowers regarding repayment options (Swalwell.house.gov). Swalwell has put forth his goals to create debt-free public college for students who receive Federal Work-Study and commit to serving their communities after graduation; to bring Direct Loan interest rates to zero; greater institutional accountability; and to streamline the process for employers to help their workers pay off student debt (MarketWatch).
Marianne Williamson [Dropped out of the race Jan. 10, 2020]
Williamson is in support of free college or technical school for "every qualified student." If financially unfeasible, she would then turn to payroll tax methods or public service as a repayment option. Williamson would like to reduce Public Service Loan Forgiveness eligibiilty from 10 years to five, reduce student loan interest rates, eliminate origination fees, and eliminate the annual caps on subsidized loans (Marianne 2020).
*UPDATED* Andrew Yang [Dropped out of the race Feb. 11 2020]
"Bailout for the People" is Yang's proposed program for the partial reduction of student debt for recent graduates. Yang proposed a 10x10 Student Loan Emancipation Act—a plan by which the federal government would buy student loan debt (negotiated rate with the private lenders) and allow students to opt into a plan to repay it through pledging 10% of their salary per year for 10 years, after which the balance would be forgiven. Yang said he believes student debt discharge should be allowed under bankruptcy. He has also mentioned the implementation of a loan forgiveness program for those who work in rural areas or with underprivileged populations. Yang supports greater institutional accountability and said he will "gladly close schools that are essentially diploma mills preying on the hopes and dreams of the vulnerable among us." He also supports lower interest rates and refinancing (Yang 2020).