NASFAA sends many thanks to our 2022 Leadership & Legislative Conference & Expo sponsors and exhibitors. Learn more about each of them below.
Both Exhibitors and Sponsors
ASR Analytics, LLC (ASR) helps our higher education clients understand and use their data to make informed decisions. ASR has a reputation for thought leadership, combining our knowledge of higher ed business processes with our deep experience in data integration and analysis. We develop targeted solutions and analytic services that allow colleges and universities to make sense of their data throughout the student lifecycle and to holistically monitor the health of the institution.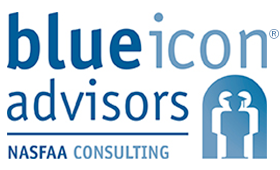 Blue Icon Advisors
Blue Icon Advisors, NASFAA Consulting, provides high-quality consulting, coaching, training, and interim staffing services to schools across the country.
In just two short years, Blue Icon has successfully grown its team of independent consultants to include outstanding financial aid and enrollment management leaders, representing all school sectors. Our consultants have more than 600 combined years of financial aid knowledge.
Blue Icon continues to innovate and develop new services to meet the community's ever-changing needs. If you have an idea for a new service or you want to get started on a project, please complete the online request form.

Citizens Bank
As one of the oldest and largest financial services firms in the United States, Citizens is committed to delivering exceptional value for our customers. Sound operations and deep finance capital has seen us through more than 40 years of student lending. To learn more, visit: www.citizensbank.com/faa

College Ave Student Loans
College Ave Student Loans is simplifying the student loan experience so students can get on with what matters most: preparing for a bright future. As a leading lending company with a sole focus on private student loans, we're using technology and our deep industry expertise to connect families who need to cover education costs with lenders who can provide that funding. By specializing in student loans, we give our customers the attention they deserve and deliver loans that are simple, clear, and personalized for the individual: we help customers find the perfect fit. We offer competitive rates, a wide range of repayment options, and a customer-friendly experience from application through repayment.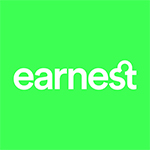 Earnest
Like most people, we have seen friends and family struggle to pay for college. It became clear that in order to change the system, we needed to build something new. We launched Earnest to give every responsible borrower the chance to go to college and pay off their student loans.
Edquity
Edquity is dedicated to redefining the social safety net to address chronic basic needs challenges. We partner with colleges, foundations, government agencies, and researchers to improve the administration of cash-based assistance programs, while increasing individuals' awareness of support resources. Our methodology harnesses the collective power of sociology, behavioral science, and technology to address common pitfalls, including racial bias, inefficiency, compliance risk, and lack of transparency and monitoring. Visit edquity.co for more information.

PNC Bank
PNC Bank's approach to fiscal responsibility has allowed us to continue meeting our long-standing goal of providing customers a suite of competitively priced products, including the PNC Solution Loan® and PNC Education Refinance Loan (PERL). PNC Bank is one of the largest banks in the United States, based on deposits and branches. With approximately 2,200 branches in 19 states and the District of Columbia, PNC continues to grow geographically. As PNC Bank continues to grow and move into more communities, we will remain committed to those ideals which define us not only as a financial leader, but also as a leader in corporate and community citizenship. Contact PNC Bank at 1-800-762-1001 or online through our website at www.pnconcampus.com.

Third Coast Higher Education, LLC
Enrollment Management divisions face a number of challenges every day, reacting to the dynamic nature of the higher education market. Unfortunately, the focus needed to look forward as well as run offices and remain fully compliant often occupies more attention of the management team than there is time for, leaving any consideration for process improvements to be an afterthought. Third Coast Higher Education associates can assist Admissions and Financial aid offices by guiding a number of process improvements, through evaluation and assessment of operations, training of staff and integration and best practice utilization of student information systems. Third Coast Higher Education is somewhat unique among enrollment management consulting firms, by employing an assessment focused approach to all of our services. As active admission and financial aid professionals, Third Coast does not merely employ theoretical solutions. Instead, we bring the combined knowledge from more than 35 years of experience in Admissions and Financial Aid management and are experts in financial aid operations, training and compliance.
Exhibitors

Ascent Funding
Ascent Funding is an award-winning student lender on a mission to revolutionize how students' access, pay for higher education, and succeed in their post-education careers. Established in 2015, Ascent is built around one guiding principle: Student loans should expand possibilities, not limit them. Committed to revolutionizing how students pay for higher education, Ascent created a new private student loan program that gives students more opportunities to qualify for a loan, with or without a cosigner. In an effort to encourage transparency and financial wellness for student borrowers, Ascent incorporates financial literacy/education into the application process as a requirement for student borrowers in order to complete and submit their application. We have a variety of financial wellness resources dedicated to students, to include over $80,000 in annual scholarship giveaways, at AscentFunding.com/Financial-Wellness and resources to help empower students to make better financial decisions today and in the future at AscentFunding.com/Resources. Students can also visit our growing YouTube channel for videos on financial tips and best practices throughout college and beyond. Ascent's recent awards include:
Best Private Student Loan for 2021 and 2020 by Forbes Advisor and ranked among the best of across eight loan categories
Ascent's Cosigned Loan chosen as NerdWallet's 2021 Best-Of Awards winner for Best Private Loan
Ascent's Outcomes-Based and Non-Cosigned Loan selected as NerdWallet's 2021 Best-Of Awards winner for Best Student Loan for Independent Students
Voted Best Places to Work by the San Diego Business Journal for 2021

CMD Outsourcing Solutions
For over 20 years, CMD has specialized in helping administrative departments of colleges and universities across the nation solve their service challenges. More than just a call center, CMD is a US-based, multi-platform solutions provider for University and College Administrative officers who face customer service and operational challenges.

Cognition Financial
Since our founding in 1991, Cognition Financial has helped financial aid officers put dreams within reach for over a million students and their families. Our goal is your goal. With distinctive pricing, cost reducing borrower benefits, and flexible deferment and forbearance options, we put education dreams within affordable reach. For three decades and counting, we are by your side.

CommonBond
CommonBond is a leading student lender on a mission to make student loans more affordable, more transparent, and easier to manage for consumers. We've funded over $2 billion in student loans, and helped thousands of members take big steps toward their goals. We're here for your students every step of the way – from our simple online application to our award-winning customer service. Plus, for every loan we fund, we also fund the education of a child in need through our Social Promise.

Discover Student Loans
Discover Student Loans provides private student loans to students at college and graduate schools across the country. We also provide loans for parents, post-graduate loans for law and health professions students, and private consolidation loans. Loans for college and graduate school feature fixed or variable interest rates, zero fees, a choice of in-school or deferred repayment, and cash rewards for good grades. US-based Student Loan Specialists are here to help your students 24/7, and Priority Services provides personal support for financial aid offices. We believe in responsible borrowing and encourage students to maximize scholarships, grants and other free financial aid before taking loans.

ECMC
Established in 1994, Educational Credit Management Corporation (ECMC) is a nonprofit company that provides support for the administration of the Federal Family Education Loan Program as a student loan guaranty agency. ECMC provides financial education services to empower students to make informed choices about their futures.
For postsecondary institutions, ECMC offers Solutions—a suite of services that includes financial literacy, student loan repayment counseling and default prevention. Solutions expands our reach to help student loan borrowers successfully meet their student loan obligations.

Edamerica
Edamerica provides a host of innovative and high-touch solutions that help hundreds of higher education institutions scale to meet service demands while streamlining administrative processes. Our solutions include contact centers, student outreach and engagement, student loan default prevention, consulting and financial aid support. Case studies are available at www.edamerica.net.

Edly
Edly is a platform which connects students looking to fund college tuition with investors looking to support social impact investments in education. Edly focuses on a type of tuition funding known as Income Based Repayment Loans ("IBR Loans"). IBR Loans have been used successfully in many countries throughout the world to finance higher education. They are also used to restructure US Federal student loans into more affordable payment plans for students who find themselves with unaffordable debt. Edly is the first and only provider of this product as a primary tuition funding method in the U.S.

ELM Resources
Compare. Certify. Disburse. In 1994 ELM was created for the sole purpose of streamlining those loan processes for Financial Aid Offices, and today, we are the only not-for-profit, mutual benefit corporation serving the campuses and loan providers who participate in private student loans. With a 95% or higher satisfaction rating from our partners over the last 10 years, we are proud of what we do for you!

Financial Aid Services (FAS)
Financial Aid Services (FAS), headquartered in Atlanta, has been providing consulting, staffing, and processing services for over 30 years! Our services assist institutions in improving efficiency, enrollment management, student satisfaction, and compliance in the area of financial aid.

Inceptia
Inceptia, a division of National Student Loan Program (NSLP), is a nonprofit organization committed to offering effective and uncomplicated solutions in verification, financial aid management, financial education, and repayment wellness. Our mission supports schools as they launch brilliant futures for students, armed with the knowledge to become financially responsible citizens.

Meadow
Co-founded by recent Columbia graduates, Meadow is a modern student financial services platform that clarifies and simplifies the financial experience for students, improving enrollment, retention and payment outcomes for schools. Using intuitive design and advanced data science, Meadow facilitates student-centric engagement across the student financial journey.

Ocelot
Ocelot is higher education's most-deployed and fastest-growing AI-Powered Student Communication Platform serving nearly 500 institutions. The Ocelot SaaS Platform combines text campaigns for targeted outreach, live chat for in-person support, and an AI chatbot which answered 5 million questions in 2020 alone. Students get the information they need, when they need it, to navigate enrollment, persistence, and access challenges. The Platform includes the industry's only fully compliant knowledgebase of Q&As and 2,000+ videos; human-quality multilingual capability; a patent-pending "Explore" advising feature; world-class AI training; and integrations into SIS, CRM, and other data systems for a personalized and consistent experience.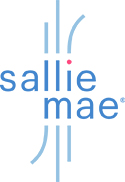 Sallie Mae
Sallie Mae believes education and life-long learning, in all forms, help people achieve great things. As the leader in private student lending, we provide financing and know-how to support access to college and offer products and resources to help customers make new goals and experiences, beyond college, happen. Learn more at salliemae.com.

SoFi
SoFi is a digital personal financial services company whose goal is to be there for their members at each stage of their lifecycle. SoFi provides financial products that includes student loan refinancing, private student loans, mortgages, personal loans, credit card, investing, and banking through both mobile app and desktop interfaces.
Sparrow allows students and families to compare and borrow personalized student loan offers through a single application. Much like Expedia has done with comparison in travel, Sparrow is doing with comparison in lending. Sparrow's AI-powered loan personalization tools empower borrowers and their families by bringing simplicity, choice, and transparency to an otherwise inefficient and opaque lending process.
Sponsor

McClintock & Associates, P.C.
McClintock & Associates, P.C. is a certified public accounting and consulting firm headquartered in Pittsburgh, Pennsylvania, with a nationwide practice in the education industry, serving more than 100 schools. For more than 40 years, we have been recognized as a leader in providing service to the school industry. We specialize in financial aid audits, financial statement audits, 401(k) audits, merger and acquisition due diligence, tax consulting and preparation, management consulting, computer consulting, and financial aid consulting. Greg is a senior manager of the company financial aid department. Where he specialize in financial aid audits, Title IV consulting, Gainful employment, program and file review and 90/10 analysis.