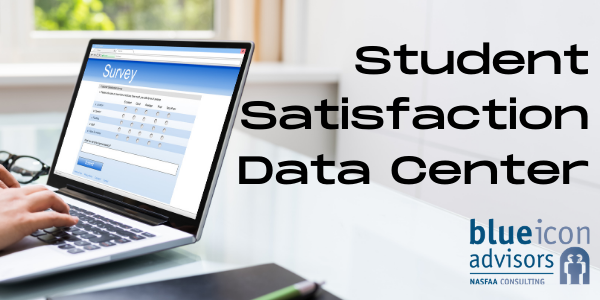 How do you know if students are satisfied with the service they receive from your financial aid office?
There has always been a strong demand from schools to measure student satisfaction in financial aid delivery and to compare that data against other institutions, but a compiled dataset did not exist—until now.
Blue Icon Advisors offers a Student Satisfaction Survey and Comparative Analysis so you can see how your school compares to student responses across the country.
Working with NASFAA's research department, Blue Icon Advisors compiled a master dataset that can be used to compare student satisfaction rates. Blue Icon's master dataset houses over 11,000 student responses across multiple school types, sectors, and regions. This master dataset will continue to grow as additional schools participate in surveys with Blue Icon Advisors.
Below is sampling of information we know about the students who participated in our student satisfaction surveys.
Students reported that timeliness is the most important aspect of financial aid—timely processing, responding to email, and notification of aid eligibility.
Students overwhelmingly receive information about financial aid via email, which is also their preferred communication method.
Just over half the students responded that financial aid communications are "very effective" or "effective."
The usefulness of the financial aid office website also ranked high in importance.
Of lowest importance to students are financial aid workshops.
You have limited resources and no time to guess which of the latest trends will work with your students. Using data to drive decisions ensures you are spending your human capital wisely with positive momentum toward increasing student satisfaction.
How can your institution participate in Blue Icon's Student Satisfaction Survey?
Complete the online request form for pricing and scheduling details.
Blue Icon will create your Student Satisfaction Survey and provides you with a draft email and survey link for you to send to your students. (To protect student data, the institution must send out the email.)
Blue Icon will compile the survey results and provide you with a report that includes your survey data, as well as the Comparative Analysis so you can see how your school compared to the master data set.
It's that simple!
To learn more about Blue Icon's Student Satisfaction Survey and Comparative Analysis, please contact us via email, call (202) 785-6953 or complete our online request form.