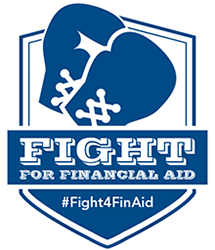 Year after year, Congress continues to threaten cuts to the federal student aid programs. With a focus on public safety and national security, student aid programs are again on the chopping block in new budget proposals. Proposals to cut from vital student aid programs close the door for countless students nationwide who rely on financial aid to pay for college. Taking valuable resources away from low- and middle-income students not only hinders their pursuit of a college education, it delays the economic growth of the country.
That's why NASFAA launched the "Fight for Financial Aid" campaign as a way to shine a light on potentially devastating cuts to financial aid. Follow along on Twitter (#Fight4FinAid) and Facebook to stay informed about the latest threats to student aid, and help us take action to oppose these cuts.
For tools and resources, check out our #Fight4FinAid resources page.