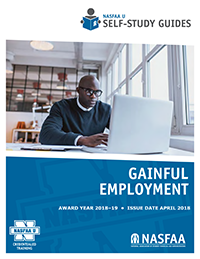 Published in April 2018 for the 2018-19 program year.*
This self-study guide defines gainful employment (GE) programs and their intended purpose within the context of eligibility for Title IV program funding. Lesson One will review the definition and purpose of GE programs, and how a school can determine which of its programs qualify as GE programs. It will also review the requirements for certifying the eligibility of the school's GE programs.
Available as a PDF only.
Learning Objectives
Lesson 1: Introduction
The purpose of the GE program reporting requirements;
Which programs are GE programs at different types of postsecondary institutions; and
The institution's requirements for reporting on and certifying the eligibility of each of its GE programs.
Lesson 2: Debt-to-Earnings Rates
Why debt-to-earnings rates (D/E rates) are important in determining whether a gainful employment (GE) program prepares students for gainful employment in a recognized occupation;
How the D/E rates are calculated; and
How D/E rates affect a GE program's Title IV eligibility.
Lesson 3: Gainful Employment Data Reporting
The general gainful employment (GE) reporting requirements;
The data required to be reported to the U.S. Department of Education (ED); and
Reporting methods and deadlines.
Lesson 4: Gainful Employment Program Disclosures
Understand general disclosure requirements;
Learn how ED formulates each of the required data disclosures; and
Understand disclosure methods and effective dates.
*NOTE: The July 1, 2019 Federal Register Notice and June 28, 2019 GE Electronic Announcement #122 rescinded the gainful employment (GE) program regulations under 34 CFR 668, Subpart Q and Subpart R, effective on July 1, 2020. Accordingly, NASFAA's Gainful Employment Self-Study Guide will no longer be available for purchase as of April 1, 2020. The Gainful Employment Professional Credential test will not be available for purchase after May 21, 2020 and will no longer be administered after June 30, 2020. The most recent edition of the Gainful Employment Self-Study Guide issued in April 2018 may contain superseded or incomplete information. Preparation for the credential test should include federal resources, including the Federal Student Aid Handbook, Gainful Employment Information, and other materials available at ifap.ed.gov.