Access NASFAA Live June 24 -27, 2018 from the convenience of your computer or mobile device.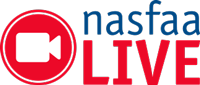 Due to travel restrictions on public institutions in California and the recent hurricane season, NASFAA has launched a live, interactive conference option that will allow you to actively participate in this year's 2018 NASFAA National Conference in Austin.
Introducing NASFAA Live
NASFAA Live, the next-best thing to attending the conference in person, will include:
The pre-conference Diversity Event
All general sessions including the general session offered by the Department of Education
One full track of pre-selected conference interest sessions each day*
The ability to ask questions and participate along with other attendees
Access to all session handouts, not just those featured in the livestream
Access to the NASFAA Conference App, to connect with attendees, speakers and more
On-demand session viewing after the conference concludes**
*Once all the conference interest sessions are confirmed, the NASFAA Conference Program Task Force will select the most exciting topics to feature in NASFAA Live.
** Some sessions will not be available in on-demand format. These will be indicated when the schedule is available.
A single NASFAA Live registration can viewed by unlimited participants.
When you register for NASFAA Live, everyone at your school is invited to participate.
Watch in the privacy of your own office, or
Invite your office colleagues to watch together in a conference room, or
Assign individual staff members to watch specific interest sessions with you.
Details

While we encourage you to share the NASFAA Live experience on your campus, there are two requirements:
Whoever buys the NASFAA Live registration, must use their NASFAA account to access the livestream and supporting materials.
Only one login is given per registration, so only one streaming session may be used at a time. Users cannot watch NASFAA Live from two devices simultaneously, but can easily move from one device to another by logging in again. Previous sessions will be disabled.
The registration fee for NASFAA Live will be $625 for NASFAA Members & $725 for non-members.
Remember: You can invite everyone at your school to participate with you.