NASFAA Graduate/Professional Members Take to Capitol Hill to Advocate for Better Consumer Information, Lower Interest Rates
By Brittany Hackett, Communications Staff
NASFAA members representing graduate/professional (G/P) institutions on Tuesday participated in meetings with congressional staff as part of NASFAA's ongoing Advocacy Pipeline initiative.
Tuesday's visit was funded by Access Group, which also funded a project in which a NASFAA task force determined what consumer information is most vital to aiding G/P students, specifically law students, in making informed borrowing decisions and encouraging enrollment in and completion of law and other G/P programs.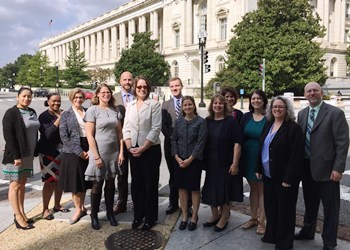 Nine members from around the county participated in visits with congressional staff members on Capitol Hill:
Mendy Schmerer, University of Oklahoma, OK

Emily Osborn, Northwestern University, IL

Matt Newlin, Washington University- St. Louis, MO

Sarah Lopez, University of California- Berkeley, CA

Katherine Anderson, MGH Institute of Health Professions, MA

Cheryl Constantine, Boston University, MA

Tracy Simmons, University of the Pacific, CA

John Garcia, Michigan State University, MI

Odette Franceskino, Quinnipiac University, CT
While on the Hill, the members met with staff from 19 congressional offices and staff from the House Education and the Workforce Committee to discuss issues affecting their sector and the students they serve.
"We were thrilled to have such a large group of financial aid administrators in town to talk with such a large number of congressional staff about the pressing issues facing graduate/professional students and schools," NASFAA Federal Relations Associate Stephen Payne said. "Their on-the-ground perspectives are so valuable for staff."
"We want the graduate and professional programs to still have a voice in DC," Garcia said. "We have the same concerns as the people on the Hill but we have a frontline perspective. We have to be there to speak for [students]."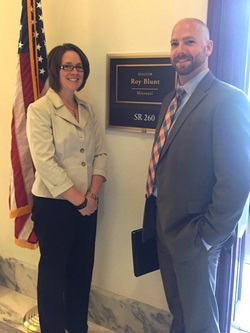 Members discussed recommendations regarding consumer information for graduate students, including how information is presented to them on award letters and consumer shopping sheets. Supported by a grant from Access Group, recent task force reports from NASFAA showed that students have mixed- to low understanding of general financial aid concepts.
The task force recommended in its reports that there should be several core elements included in all award notifications, such as links to general information about debt and repayment, and terms and conditions of award letters. The report also advised that a one-size-fits-all model isn't particularly helpful for their population of students and that institutions should be allow to customize these materials based on their students' needs and institutional characteristics. Award letters should clearly indicate the school's Cost of Attendance (COA) and graduate/professional institutions should list Graduate PLUS Loan eligibility on a student's award letter coupled with robust counseling and online information, the report said.
Members reiterated many of these points during their Hill meetings.
"We want to try to find the best ways to communicate with our students in a clear and concise fashion" when it comes to borrowing for graduate school, Osborn said. "It's important that the staffers on the Hill understand that we are looking out for the best interests of our students, and concerned about overborrowing."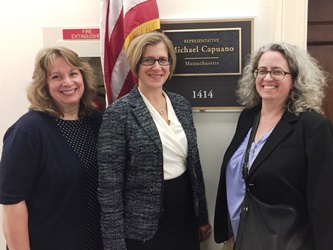 In conversations throughout the day, NASFAA's members also expressed their concerns about issues facing graduate and professional students, including the need to maintain strong campus-based programs like the Perkins Loan Program and Federal Work-Study, as well as retaining public service loan forgiveness (PSLF). They also expressed a desire to see the elimination of loan origination fees and lower interest rates for graduate student loans.
"I think events like the Pipeline are really important because more of the conversations on the Hill about financial aid are around undergraduates, and we want to be a voice for our students," Osborn said. "Programs and benefits around graduate students have been scaled back and we want to make sure going into reauthorization that Congress is considering the needs of both groups of students."
For more pictures from the event, check out NASFAA's Advocacy Pipeline Facebook album or search Facebook and Twitter for #GradHillDay. If you're interested in volunteering to be a part of NASFAA's Advocacy Pipeline, fill out an interest form here.
Publication Date: 10/5/2016