MVP Sara Beth Holman

MVP: Most Valuable Professional is a series that features a brief Q&A with a different NASFAA member every couple of weeks. Do you know a financial aid colleague with something interesting to say? Send the names of potential future MVPs and a short note about why you're nominating them to news@nasfaa.org.
Sara Beth Holman
Director of Financial Aid At Lawrence University
(Appleton, WI)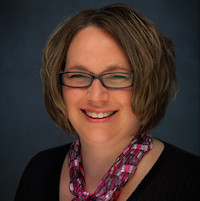 As a new freshman at Northern Michigan University in 1991, Sara Beth was assigned a Federal Work-Study position in the financial aid office. She worked there for the majority of her undergraduate career and accepted her first professional job as a Financial Aid Advisor in 1997. A brief one-year hiatus from the profession, the result of a move, served as an eye-opener for Sara Beth; she wanted to be back in higher ed, specifically in financial aid. Less than a year into her job as project director of a state funded grant for CESA 8, a K-12 educational service agency in WI, she received a phone call from Cheryl Schaffer, the then director of financial aid at Lawrence University. A month later she became the associate director of financial aid at Lawrence University, and 3 years later the director.
Do you have any hidden talents?
I can make a mean pair of fleece pajama pants and the cutest fleece car seat covers for babies. Every Christmas I sew matching pajama pants for my kids and all of my nieces and nephews to wear while celebrating at my parents' house.
What's on your desk right now?
A large fountain diet coke (with extra ice so it stays cold) and a LOT of piles of stuff (papers, reports, articles, etc.) that I need to get through before our fall term starts in mid-September.
What's one thing working in financial aid has taught you?
Don't make assumptions based on what you see on paper– income, assets, grades, achievements, etc. – don't define who a person is. When a student comes to you for help, ask questions and take the time to listen.
What is usually your first thought when you wake up?
Can I hit snooze one more time and still make it out of the house on time?
What is a goal you've set for yourself for the upcoming year?
Spend less time in the office and more time with my family. My son is 7 and still thinks it's cool to have Mom chaperone a field trip or help with a party at school. I need to take advantage of that. My daughter is 17 and a senior in high school. While I am certainly not cool in her eyes, I want to be there for what is potentially her last year of hockey, softball, and living at home.
What NASFAA service/product is most helpful to you?
Today's News. Without it, I don't know how I would keep up with regulatory and legislative news, updates, and activity.
What was your most motivating work experience?
There have been a few, but one that really touched me was a student who transferred to Lawrence from a local community college. She had been an honor student, athlete, and class officer in high school. She was also an alcoholic and addicted to Oxycontin throughout her teens and into her early 20s. She went through inpatient and outpatient rehab programs, relapsed, and for a time struggled with an eating disorder before becoming clean and healthy. She is pursuing a degree in public health and is so thankful for what life has given her in recent years. She volunteers with local organizations, speaks to area students and youth groups about her experience with addiction, and does what she can to give back as a way to thank all who have helped her along with way. Last winter she studied abroad for a term and in doing so, she chose a program in London because it was a city where she could continue to attend weekly 12-step meetings in English.
Have you ever attended the NASFAA national conference? If so, what year, what city, and what is one of your favorite memories or experiences from the conference?
Denver in 2011, Chicago in 2012, Las Vegas in 2013, and Nashville in 2014. At each of these conferences, the highlight for me was the opportunity to network with so many of my colleagues.
What is one personal fact about you that would surprise your coworkers?
I think I just surprised many of them the other day when they learned that I knew the words to several of the "Da Yoopers" songs. I went to college in the upper peninsula. What do you expect?
What's the best advice you have ever gotten?
My sister once chided me and said, "Sara Beth, 'help' is not a four-letter word!" She was right. There are always people willing, and wanting, to help when you need it; you just have to ask.
Want to say hello to Sara Beth or reply to something she said? Please leave your remarks in the comments section, below! You can also take a look back at our past MVPs to read any you missed the first time around.
Publication Date: 8/25/2014
---