When You Don't Know What to Do, Ask Good Questions
Hello, NASFAA members! Thank you all for you kind and encouraging comments on my first blog. It excites me to have the opportunity to continue to write, and keep you all updated!
Last week was full of welcoming introductions and information-packed meetings. As the 2017 NASFAA National Conference is approaching, the entire office seems to be in 'conference-mode.' While witnessing everyone's diligent planning—to say the least—this conference will be impeccable!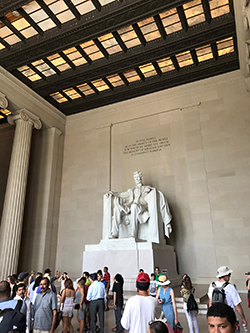 Prior to beginning the Dallas Martin Endowment (DME) for Public Policy and Student Aid summer internship, I was given great advice: "when you don't know what to do, ask good questions!" During NASFAA policy team meetings, I found myself attentively writing. This team deals with detail-oriented information, and every single note I have taken has been a question. The history behind financial aid cannot be summarized in a one-hour tutorial, but even with the questions I did ask, there was more information given to me than I had known before! While asking questions may have a stigma, it is also a form of advocacy because you are taking the time to understand the issues in pursuit for a better outcome.
Though I have attempted to ask questions during my work with NASFAA, over the weekend I should have followed my own advice and asked for directions! In a stubborn attempt to learn how to navigate through Washington, D.C., I enjoyed an unexpected 4-mile walk around the city! I intended to see the Lincoln Memorial and the Library of Congress, but it turned out just to be the Lincoln Memorial and tall buildings in the city!
On Tuesday, I had the chance to attend the Bipartisan Policy Center's event on "Promoting Affordability and Accountability in the U.S. Higher Education System." There were a handful of inspiring guests! The President of Purdue University, Mitch Daniels, opened up as the first panelist, answering questions regarding managing student and parent debt. There was rich insight on how parents are also affected when it comes to taking on debt for their students. Furthermore, Daniels discussed the need to push for more simplification in the student aid system, which is a trending necessity.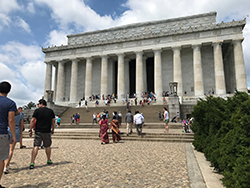 This topic point was carried out by Sen. Tim Scott (R-SC), as he discussed the need for more financial literacy, the year-round Pell Grant, and accommodating financial aspects for low-income student. The full cost of attendance, specifically housing, can be burdensome for students. Financial aid may assist with tuition, but if a community is too expensive to afford, it can put low-income students at high risk for low retention and increased student debt. Scott recently introduced the Family Self-Sufficiency Act, which is bipartisan legislation that enforces resources and assistance to families for housing and work in an equitable manner. Scott shared a little about his life, explaining how he came from a low-income family, and how his college-level education would be impossible without scholarships and grants. There is a significant importance in trying to increase financial literacy and accommodate for non-traditional students.
Dr. Mariko Silver, president of Bennington College, and Sheila Bair, president of Washington College, wrapped up the discussion by talking about student advocacy from an advising standpoint. Whether that be financial or academic, both stressed the importance of institutions getting to know their students. Attending this event has made me quite eager for the conference! It is clear that education matters and so do students. I am anxious to see the different forms of advocacy presented and the information that is shared among other members, and to listen to all the inquiries from other institutional communities!
I hope you enjoy the photos, and I look forward to meeting many of you at the NASFAA conference next week!
Publication Date: 6/23/2017
---