It Is More Than Rules and Regulations
Hello, NASFAA members!
It has been a hectic week here in the beautiful city of San Diego, California at the 2017 NASFAA National Conference. Nonetheless, every moment has been meaningful and impactful. For the past two weeks, I have been traveling coast to coast. Many people have asked me if I have had any issues with the time change, but at this point, I do not think I'm experiencing any jetlag. Entering my third week with NASFAA, I have learned that every day will be fast-paced. The conference was definitely no exception.
On Monday, I was warmly welcomed at the opening session and reception held at the conference. As I entered the convention center, I was shocked at the mass of people. It was great to see so many professionals taking such an interest in financial aid. As I floated around between groups and vendor booths, my excitement began to build little by little about the events that were going to unfold over the course of the week.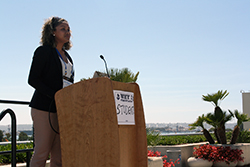 When I first began my work-study job as a peer advisor, there was a phrase that administrators used on a regular basis, typically in tough counseling situations that were likely to have an unfavorable outcome for the student because of the federal rules and regulations schools had to comply with. The phrase is: "Those are just the rules and regulations." That phrase really stuck with me, and during the conference I made it my mission to better understand what the aid administrators in my office meant by this.
With so many sessions offered at the conference, I was bound to find out why that phrase was so significant. A few of the sessions that I attended focused on the FAFSA now using prior-prior year information, women in leadership, and how to counsel first-generation students. With many present climatic pressures that are social, political, and financial — all initiatives were issue-focused. The common theme between them all was how all the professionals were dedicated to working for the students.
The session that I related to the most was on how to counsel first-generation students. As a first-generation student myself, I am all too familiar with the highs and the lows, but it was refreshing to hear how much these members care about their students. The panel was well represented. The information that was shared across the board was inspiring and engaging. Listening to presenters discuss different programs, talk about financial opportunities, and ask questions filled me with ideas that I am excited to act on.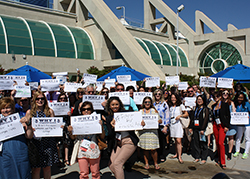 In addition to that great session, there was the kick-off event for the Fight for Financial Aid campaign. As all the members congregated on the rooftop, and "Survivor" by Destiny's Child played through the speakers, I do not think anyone really knew what to expect. I sat there a little nervous but excited because I was lucky enough to be trusted to speak about why financial aid matters to me and how the proposed budget cuts could affect me. Being able to speak to the convened group of NASFAA members was a memorable experience. It is not easy to talk about personal financial matters with strangers, but I was comforted by the community of caring professionals, and I am thrilled I was able to share a student perspective. I have no doubt that with so many individuals passionately advocating against student aid cuts, the campaign will be a success.
And best of all, after 4 days at the conference, I see what the aid administrators meant by that phrase I mentioned earlier—financial aid will always be more than just rules and regulations. Financial aid is the first opportunity students have to invest in themselves. It is the first chance they get to pursue their interests and aspirations. Though it is crucial for institutions to comply with the established rules, it is equally important to revisit the rules and regulations and ensure they are truly for equitable for all students and to push for change when there is something that could negatively impact students' ability to go to and pay for their postsecondary education. That way everyone has a fair shot in walking through the door of opportunity, even during weary times.
Thank you everyone who attended the 2017 NASFAA National Conference and helped to make it a success! This was truly an unforgettable experience.
Missed past episodes of Brianna's Blog? Catch up here.
Publication Date: 6/30/2017
---