The Fourth of July, Politics, and Financial Aid
Hello, NASFAA members!
After being away from the NASFAA office for almost a week it is nice to be back. Though it has been a short week, there were plenty Fourth of July-related events going on in D.C.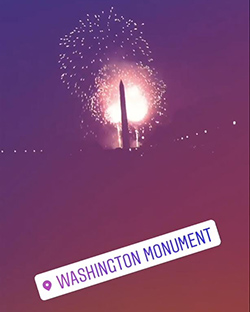 I have become accustomed to D.C. always being crowded, and it makes sense because every day there are groups of people who come to watch history come alive. During the holiday my expectations were high, particularly for fireworks! My roommates were equally excited because none of us had ever experienced a Fourth of July in D.C. or seen the fireworks at the National Mall!
Before the afternoon and evening festivities began, I had to handle my student priorities which meant homework. Over the summer, I am taking two summer classes. One political science course and one philosophy course. I sat in, what felt like, the smallest Starbucks in town and managed to focus while floods of people entered. What struck me the most was how diverse these groups were. It looked like people were coming from different countries, but that did not surprise me. It reassured me that the day was going to be amazing.
Despite being somewhat distracted by all the commotion in Starbucks, I took a thorough interest in my assignments for the week. The political science course I am taking is called, Political Ideologies. I signed up for it simply to cover a requirement for my major, but this course is introducing me to a lot of important perspectives, and it could not be more timely.
Right now, the class is focusing on the idea of "reclaiming politics." What is interesting about politics is the connotation that comes with it. If something is the slightest bit political, people will stray away from it in hope of avoiding uncomfortable discourse, but uncomfortable discourse is important! Thinking very far back, it took the Founding Fathers a lot of uncomfortable discourse to build the foundation of the United States, and it has also a great number of uneasy conversations for people in this country to have their voices heard.
Furthermore, it is nearly impossible to escape politics. While people may have opinions and stances that differ from our own, that does not make them irrelevant. All ideas deserve some amount of consideration. Ultimately it allows us to better develop our own views to know what the opposing viewpoints are.
I am frequently asked why, as a political science and philosophy major, I take such an interest in financial aid. Put simply, financial aid has allowed me to have a 'check point.' While working as a peer advisor and as NASFAA's policy intern, I am always reevaluating my position and the means I have access to. This class is helping me develop my 'check point' by encouraging me to engage in difficult conversations because it is more beneficial than escaping different opinions.
Spending the start of my day in a well-crowded Starbucks, with people from different backgrounds, but all gathered in the capital of the United States for the same reason, showed me another side of things. When it comes to financial matters, nothing is easy. Whether discussing personal budgets or national ones, everyone brings their own opinions and draws from their own experiences, but what is most important is to stay focused on the issues. I am grateful that I got a chance to bring that thought into perspective this week and especially during the excitement of the Fourth. This day was amazing!
How did you spend your Fourth of July? Comment below to let me know.
Publication Date: 7/7/2017
---