NASFAA Member Advocates for Student Aid Programs During Budget Event on Capitol Hill
As Congress continues work on crafting the fiscal year 2018 federal budget, it is critical that the federal student aid programs continue to be supported and invested in, NASFAA member Heather Boutell said during a panel discussion in Washington, D.C., on Thursday.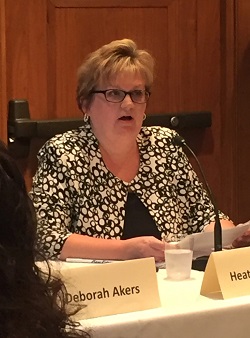 Boutell, director of financial aid at Bellarmine University in Louisville, KY, participated in a panel discussion, hosted by the Committee for Education Funding, focused on the federal budget and the
devastating cuts
to education included in President Donald Trump's FY 2018 budget proposal.
Trump's budget proposal includes $9 billion in cuts to programs across the education continuum, including a $3.9 billion cut from the Pell Grant Program reserves. Trump's budget also proposes eliminating the Federal Supplemental Educational Opportunity Grant (FSEOG) program entirely; reducing the funding level for Federal Work-Study to $500 million, representing a 49.5 percent cut to the program; and eliminating the subsidy for Federal Direct Loans for undergraduate students, among many other provisions.
"As a financial aid administrator working in the field over 25 years, I assist students in navigating the federal student financial aid programs," said Boutell, who is a past member of NASFAA's Board of Directors. "I know all too well the important role that these programs make in the lives of students in Kentucky. ... The president's proposed budget would have severe consequences for students at my institution and for the students across Kentucky."
Cuts to the campus-based programs would mean students at Bellarmine would lose $358,953 in student aid, Boutell said, citing data she received from using NASFAA's
Budget Effect Estimator
(BEE).
"These campus-based programs make a difference on my campus and give me flexibility to help students most in need," Boutell said. "I have many students that want to work to help pay for college, and the partnership between my university and the federal government allows for students to help themselves pay for school."
Boutell also expressed her concern with the proposal to cut $3.9 billion from reserves in the Pell Grant program and the proposals to eliminate interest subsides on Direct Loans and the Public Service Loan Forgiveness (PSLF) program.
"Over the course of my career in financial aid, I've seen the way financial aid can open a door for a student," Boutell said. "The money spent allows students to achieve a college degree and contribute back to the economy. … I urge Congress to craft a spending bill that values student aid—and the rest of the education continuum."
Publication Date: 7/14/2017
---