Almost to the Finish Line
Hello, NASFAA members! As my second to last week comes to an end, everything remains in full pace. Last Thursday marked NASFAA's annual State of Student Aid event. This event is a chance for NASFAA's policy team to present the National Student Aid Profile, which contains an overview of the federal student aid programs, updated for 2017. The information serves as resource to exemplify how important federal funding is in higher education.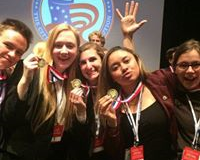 The day of the event, I was surprised to arrive at the Rayburn House Office Building on Capitol Hill. In high school, I participated on the Constitution Team. Constitution Team is a class carried out by the We the People organization. The class is divided into six units, each studying different parts of the Constitution. The class spends its time studying the Constitution as a whole and analyzing specific parts in relation to each unit's assigned questions. The Constitution Team was not your typical AP Government class. It was more intense, and the best experience I had from high school. We spent the entire year preparing for the district, state, and national competitions. The competitions are focused on answering the questions provided beforehand, and also designated time for a follow-up questions that test the unit's knowledge of their assigned topic.
In April 2015, the students, our teacher, and coaches flew out to Washington, D.C., to compete for the national title. We prepared fervently, taking over our hotel's conference room with our pocket Constitutions in hand, and quizzing one another on the material. The last day of nationals we all gathered at the Rayburn House Office Building and competed for what felt like hours. The room was filled with spectators from all around, like a NASFAA town hall. Later that evening, all the teams gathered, and my school, Grant High School, was awarded first place. To say the least, all the hours of preparation, memorization, and sacrifices were worth it because it was preparing me for future events I had no idea I would be participating in. Before I realized I was going back to the same building, I was slightly nervous for the event, but my nerves calmed when I realized I was on familiar ground.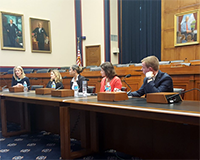 The extended preparation for the State of Student Aid event resulted in an outstanding outcome. Sitting alongside the policy team was an honor because this is a team that knows their information. In addition to the policy team, there was a panel moderated by NASFAA President and CEO Justin Draeger. The three panelists were: Patricia A. Scott, assistant vice president, student financial assistance and education at the University of Maryland, Baltimore; Carrie Warick, director of policy and advocacy with the National College Access Network (NCAN); and Jamey Rorison, director of research and policy at the Institute for Higher Education Policy. With every question and answer, every panelist provided noteworthy information about why these programs matter and why advocacy in support of them must continue. The reiteration of the evidence presented from data in NASFAA's National Profile truly emphasizes the critical role that these federal aid programs play for students.
As my internship wraps up and I enter my last year in my undergraduate studies, I am preparing myself to begin considering my career. Law school is at the top of my list, but I'm also taking time to think about what type of purpose I want to contribute to my community. Re-entering the Rayburn House Office Building planted a few thoughts in my head. The nostalgic feeling of serving with a well-intentioned team assures me that I have a passion to speak about things that matter. I continuously find myself unintentionally participating in some form of advocacy, and at one point I was determined to find a specific job I could develop into a career. What I have learned from being at NASFAA is that there are numerous ways to break into a career in advocacy, and each is as meaningful as the other!
Publication Date: 8/4/2017
---