NASFAA Urged ED to Weigh Burden And Benefit in Regulatory Reform Hearing
By Allie Bidwell, Communications Staff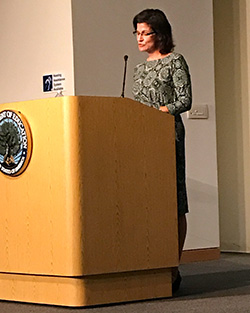 Regulations within higher education are necessary to protect students and taxpayers, to maintain program integrity, and to promote transparency. But at some point, if the burden of certain regulations outweighs the benefits, it can be a detriment to students, according to Karen McCarthy, NASFAA's director of policy analysis.
McCarthy testified during a public hearing on regulatory reform hosted by the Department of Education (ED). McCarthy identified several regulations – including the return of Title IV funds (R2T4), subsidized usage limits (SULA), and verification – that are overly burdensome for financial aid professionals and in some cases create barriers for students.
"Regulations that carry more burden than benefit, or that control institutional processes too tightly, increase costs and reduce student services," McCarthy said. "Rules that create barriers to aid application, enrollment, and completion, or that inhibit innovation by institutions, are as problematic as those that inhibit job creation."
NASFAA's suggestions were based in part on responses from members on regulatory reform. NASFAA solicited member comments through a series of articles focused on different regulations and areas for consideration. The most common member responses focused on R2T4 and SULA.
R2T4 regulations, for example, are more complex than what is required by law, McCarthy said. The complexity is apparent, as R2T4 is consistently listed as a top audit and program review finding.
"Schools do not aspire to be non-compliant," McCarthy said. "Any area of regulation that consistently trips up schools should be reviewed."
Likewise, McCarthy said that while SULA is statutory, the regulations for implementation are complex and difficult to explain to students. NASFAA recommended conducting separate negotiated rulemaking sessions for each issue.
On verification, McCarthy said it would be helpful if institutions had more flexibility to apply quality assurance principles, and if there were more advances in targeted data selection. She added that NASFAA would like to see "consultation with institutions before adding new verifiable data elements."
"Regulations should provide clear goals and guidelines, with details left up to schools as much as possible," McCarthy said. "We encourage ED to reformulate regulations that currently have a high degree of specificity and few options, into more flexible options for attaining underlying objectives."
Publication Date: 10/5/2017
---