FSA Chief Johnson Reiterates Commitment To FAFSA Simplification
By Brittany Hackett, Communications Staff
In the first three days since it has been available, more than 500,000 people have completed the 2018-19 FAFSA, which is a 6 to 7 percent increase over last year, according to Federal Student Aid (FSA) Chief Operating Officer Dr. A. Wayne Johnson.
Johnson, who was speaking Wednesday at an event hosted by the National College Access Network (NCAN), said that one of his top priorities as head of FSA since taking the job in June has been to seek input on how to improve and simplify the FAFSA, including how to continue the momentum achieved last year through the implementation of the Early FAFSA and the move to using prior-prior year (PPY) income tax reporting.
"You have no greater friend as it relates to FAFSA completion than me," Johnson said. "FAFSA completion is incredibly important today, will continue to be important, and will amplify in importance," he said, adding that he has "heartfelt dedication" to do what he can to ensure that students and parents have a better experience and outcomes when dealing with FSA.
According to Johnson, one of the most significant issues FSA faces moving forward is that "nobody knows we exist." He said his goal is to lead the agency in promoting the services and role FSA plays in federal student aid – from applying for aid, to disbursement and repayment. To that end, FSA continues to move forward with plans to develop a single data processing system for borrowers, which will include FSA branding and be functional 24/7 across access points.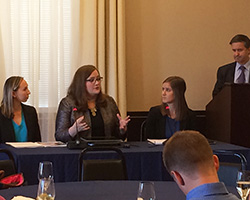 During a question-and-answer session with event attendees, Johnson also discussed reports that FSA is considering moving part of its student loan portfolio to the Department of Treasury, as well as selling off part of the portfolio to the private sector. Johnson said it is "reasonable to conclude we are looking at any and all aspects of how the current portfolio and future portfolios are funded," but noted that the primary mission of FSA is to make federal student aid available through the FAFSA and that will not change.
Johnson was also asked about FSA's progress in reviewing outstanding borrower defense to repayment claims, to which he said that the Department of Education (ED) continues to work toward properly addressing the claims and is "very focused on getting it dealt with, and drilling into it as aggressively and assertively as possible."
NCAN's event was focused on reviewing the success of the first year of implementing the Early FAFSA and PPY, and included the unveiling of two reports on the issue. The first focused on data related to school district poverty and FAFSA completion.
The second report, authored by Jeffrey Selingo, looked at the impact Early FAFSA and PPY had on access to higher education, and used NASFAA's white paper on implementation as a resource. According to the NCAN report, there was a 9 percent increase in the number of high school seniors who completed the FAFSA due to its earlier availability, as well as a 6 percent increase across the board. Between October and December of last year, about 1 million students filed the FAFSA.
Selingo identified three key developments from the first year of Early FAFSA:
The earlier filing date allowed high school counselors and advisors to initiate conversations about financial fit when they were talking about admissions;
The admissions calendar started to change a little bit, but the vast majority of institutions maintained their deadlines for financial aid, and many also were dedicated to setting their tuition rates sooner; and
Colleges and universities are starting to think more about deadlines for their own financial aid programs and how the can be better aligned with what students are being required to do for federal and state aid.
During a panel discussion on Seligno's paper, University of Missouri Student Financial Aid Associate Director Gena Boling said that her institution looked at the change to Early FAFSA "as an opportunity to not just load FAFSAs earlier and provide notices earlier," but as a way to "holistically [look at] what we are doing for students throughout the year."
Her institution, which was featured as a case study in NASFAA's white paper, completely reevaluated its processes for admissions, financial aid, and enrollment.
"We felt like this was such a great change and something that our students would benefit from, and we wanted to hold on to the idea of them being able to have more time to finish the FAFSA and make their decision" about where to go to college, she said.

In terms of FAFSA simplification moving forward, Boling said that she "would hate to see [institutions] regulated further" but would like institutions to continue to work toward consistent messaging and processes for students, such as consistency in award letters and other notifications.
Publication Date: 10/5/2017
---